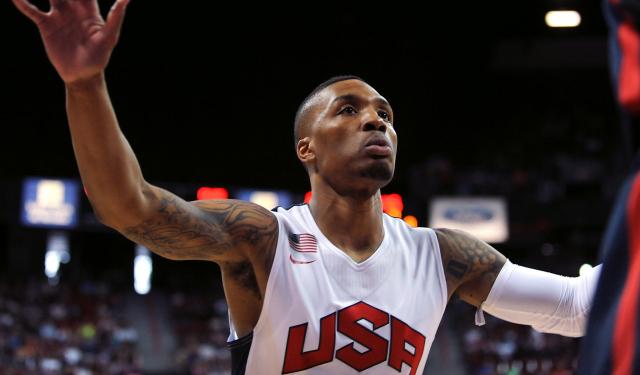 Damian Lillard was cut from Team USA, but he's taking it in stride. The Portland Trail Blazers point guard handled it like a pro, USA Basketball chairman Jerry Colangelo told the Associated Press' Brian Mahoney. 
Lillard's been responding to fans asking about it on Twitter, and he's been clear on that platform that he intends to use this as motivation.
Back in my natural habitat! Throw more wood on the fire . Thankful for the opportunity And guys please don't feel sorry. I'm always Good!

— Damian Lillard (@Dame_Lillard) August 23, 2014
He also told Yahoo Sports' Marc Spears that he had no hard feelings and posted the following (pretty great) photo to his Instagram account with the caption, "This is team USA letting me go. My head up, spirits up, and I'm going back to work. #TeamAdidas #JustGetBetter #WoodOnTheFire."
There's an argument to be made that Lillard should be going to Spain for the 2014 FIBA World Cup over Derrick Rose because of doubts about the Bulls star's health, or that he should have made it over Kyrie Irving because he's a better shooter. Once Rose showed against Puerto Rico on Friday that he was good to go, it ended Lillard's chances, via ESPN's Marc Stein. 
It was always going to be a close call at the point guard position, even with John Wall being sent home weeks ago. Lillard, who starred in the Big Sky conference for Weber State in college and before that played for the little-known Oakland Rebels AAU program, has been underrated for the vast majority of his basketball-playing life. Now an NBA All-Star, he's looking to make this the last time he gets overlooked.