Damian Lillard leads 2013 NBA All-Rookie teams
Trail Blazer Damian Lillard leads all vote-getters in the 2013 All-Rookie teams featuring Bradley Beal, Anthony Davis, Dion Waiters and Harrison Barnes.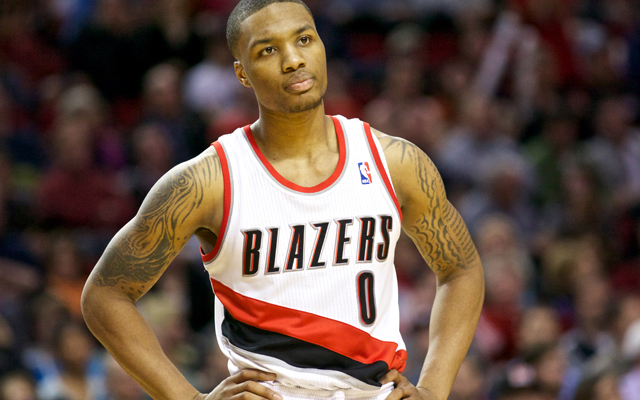 The NBA announced its 2013 All-Rookie teams on Tuesday, and to no surprise, Damian Lillard leads the way. 
The first team, with point totals:
Damian Lillard, Trail Blazers (58)
Bradley Beal, Wizards (57)
Anthony Davis, Hornets (57)
Dion Waiters, Cavaliers (50)
Harrison Barnes, Warriors (47)
And the second team: 
Andre Drummond, Pistons (35)
Jonas Valanciunas , Raptors (31)
Michael Kidd-Gilchrist, Bobcats (29)
Kyle Singler , Pistons (17)
Tyler Zeller, Cavaliers (15)
And also receiving votes: Maurice Harkless, Orlando, 14 (1); Alexey Shved, Minnesota, 14 (1); Chris Copeland, New York, 9 (1); Brian Roberts, New Orleans, 5; Andrew Nicholson, Orlando, 4; Jae Crowder, Dallas, 1; Festus Ezeli, Golden State, 1; Draymond Green, Golden State, 1; John Jenkins, Atlanta, 1; Terrence Jones, Houston, 1; Pablo Prigioni, New York, 1; Terrence Ross, Toronto, 1; Jeff Taylor, Charlotte, 1
Lillard got 29 first-team votes, the only vote-getter to sweep first-team votes. Bradley Beal got all but one first-team vote, as did Bradley Beal. There was a clear gap between the top three of Lillard, Beal, and Davis, and the rest. It's a little surprising that Waiters didn't get more votes after a suprisingly strong late-season surge, similar to J.R. Smith's. Everything else pretty much makes sense. Only objection I might make is Alexey Shved over Kyle Singler, but that's not really worth the argument. 
Lillard averaged 19 points and seven assists this season for Portland.
Lakers rookie got his shot to fall, thanks in part to some of the worst defense you will ever...

The singer of the national anthem at the Nets game took a knee at the end

This was the Lonzo Ball people were expecting out of college
Antetokounmpo finished with 34 points, 8 rebounds, 8 assists, and 3 steals, but the Cavs won,...

John Wall is proud of his ability to block shots and thinks nobody at his position has been...

Giannis went at LeBron on a fast break, but LeBron won the matchup