Damian Lillard: Not considering quitting US team after George injury
Paul George injury puts fear into players for their careers, but Blazers guard admits these injuries, even George's, are part of the game.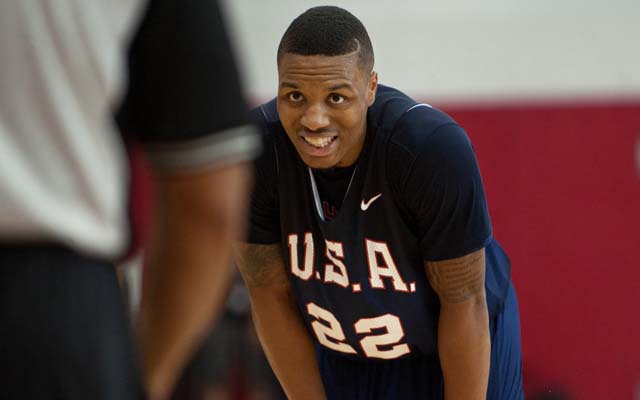 Offseason: Free Agency | Latest from Ken Berger | Rumors
Portland Trail Blazers guard Damian Lillard said in the aftermath of the gruesome injury to Pacers forward Paul George in Friday's Team USA scrimmage he hasn't considered withdrawing from the team, and acknowledged that injuries are simply part of the game. From CSN Northwest: 
"Nah, It's a part of the game unfortunately," he said. "It's a risk any time you step out on the basketball court. I haven't thought about stepping away [from Team USA]. I'll stay in."
via Damian Lillard dealing with a heavy heart when it comes to Paul George | CSN Northwest.
There are a lot of questions about the future of NBA player involvement in Team USA. Ken Berger of CBSSports.com broke down some of it, including the growing sentiment that the owners will be the ones to push for an end to player involvement. 
And since we're asking that question, why should an NBA owner who has invested millions in guaranteed salary in a player accept the risk of losing him to a serious injury -- in an event that has nothing to do with his team?

George is entering the first season of a five-year, $92 million extension he signed in September 2013. Not that it makes the injury any less gruesome or the rehab any easier, but the money is all guaranteed. Under the NBA's agreement with FIBA, a team may withdraw one of its players from a FIBA event only if there is a pre-existing injury concern -- as was the case with the Spurs and Manu Ginobili.

"The owners are the ones taking all the risk," one Western Conference executive said Saturday. "The players have no risk, so that's why they play. If you told players you'd have to eat their contract [if they got injured], you wouldn't have one guy playing."
via Paul George injury invites questions about NBA involvement in FIBA - CBSSports.com.
For the players, there are tangible reasons to participate. It raises their profile, it lets them work with other elite players, it has benefits. But there is a legitimate desire on the part of several players to be a part of something greater, to represent their country. 
George's injury was horrific, and warrants the kind of attention that's being paid to the circumstances. But the reality is that these injuries do happen, and they're almost impossible to completely prevent, and it could have occured in his home, on a practice court, in a pick-up game, anywhere. The body is vulnerable. Players know that going in. Good for Lillard to have the perspective not to overreact despite what would be a very scary prospect of that happening to him. 
T.J. Warren gets paid big money by the Suns in a four-year deal

Melo didn't hold back on his feelings about President Donald Trump and urges for help in Puerto...

The Wizards star says the NFL won't change until important players like Brady and Rodgers speak...
Popovich spoke at length about sports, race, culture, and politics during Spurs media day on...

Carmelo Anthony finds the idea of coming off the bench very funny

Several teams spoke about Trump's recent comments about protests and the Warriors' White House...