Damian Lillard Q&A: Rookie of the Year motivated to be an All-Star
During a video game shoot, Damian Lillard talks about motivation, when he realized he was a big deal in the league, bullying and wearing that crazy motion capture suit.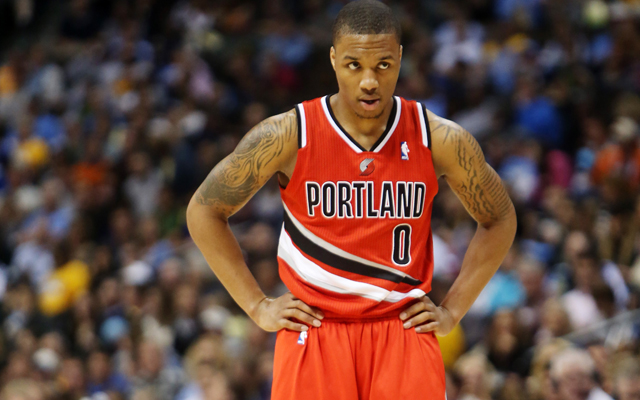 Portland Trail Blazers guard Damian Lillard has gone big time. He instilled an new era of hope in Portland with a stunning set of moves that won him Rookie of the Year last season. Portland didn't have the depth to stay in the playoff hunt, but Lillard was a revelation.
Lillard was at EA Studios putting in work for a video game (NBA Live 14), and took some time to catch up with CBSSports.com about his motivation as a player, his thoughts on the Rookie Transition Program and what doing "motion capture" work for a video game was like:
Q: When did things really start to change for you last season, when did it become apparent that you were "a thing" now?
A: When I started to blow up during the season, things started to change. First time I went to New York, it was probably after 15-20 games, that was when I first noticed it. Now everywhere I go everyone's running up to me and taking pictures. Now everywhere I go it's a big deal. Every time I step outside of my house.
Q: Your first big community service initiative was centered around bullying. What was kind of the impetus that made that what you waned to focus on?
A: It was brought to me by someone I know. The thing that made me choose to do it was when I was in 10th grade, I was in a private school, and I went to just play basketball. A lot of wealthy kids. A lot of the "cool people," and there was only one kid from east Oakland and everyone would try to clown on him. Me and him we started to be friends and I realized how much it was bothering him. It wasn't going to happen to me, because I was kind of a tough dude, so I started to take up for him. The idea of it, it felt like me being an NBA player now that I have a lot of influence, it'll get out to a lot more people if I can spread the word. It's a bigger problem than we act like it is.
Q: You've pretty much never had what people would consider "reasonable" or "moderate" expectations for yourself. You've come out and talked about wanting to be a All-Star, be one of the best players in the league. Is that something that comes from inside you, or have there been things that have pushed you?
A: I think it's always been internal. I always had high expectations for myself. If I go to a baseball field, if I'm playing with Major League Baseball players, I expect to play well. It comes from my family, too. They always made me believe it. Anytime I was playing basketball or football, they were telling me I belong out there. I started to take that attitude out there. Why not be an All-Star? I believe it can happen. As long as I believe it, it doesn't matter what anyone else says.
Q: The Rookie Transition Program is a pretty interesting initiative by the league. Do you think the guys get a lot out of that experience; does it really prepare you for what happens when you hit the league?
A: I don't think you can learn anything better than just experiencing it. That was the best learning experience we could have had. I think it's great for guys to come ito the league. You don't know what to expect. They have judges come speak. They have guys that were athletes and went down the wrong path. You get a chance to see the ones that were successful, the ones that went the wrong way, and guys that were taken advantage of by an agent, or accountant. You won't come across that in your first season.
It might open our eyes to something that might happen. It's a great thing.
Q: You shared an Instagram of the Adidas Crazy 8's, what is it about that shoe you like so much?

A: I played in them in high school, it's an original shoe. Everybody wore Crazy 8's, now you have people wearing them for the look and now just for the basketball shoe. Flexibility on and off the court.
Q: So you just got done doing the motion capture stuff for NBA Live 14, was it a weird experience? Did it limit your abilty to do anything you normally do on the court?
A: Not really, the suit was kind of weird. I didn't think it was going to be, but I was able to shoot, I was able to move.
Q: What made you want to be a part of this game, in particular?
A: Over the last few years everyone's gotten used to one thing, and EA is on to some different things. Now I think it'll have something to challenge (2K Sports' NBA 2k franchise).
Q: Do you think, with as popular as 2K is, Live can make an impact in its return?
A: I don't think it will be automatic for people to play 2k. Lot of people will be excited to play Live.
Q: What was the suit like?
A: Tight. (Laughs.)
Philly and Boston are matching up again after the Sixers' second-half collapse in London

Kris Dunn somehow took a chunk of the Bulls court out with his teeth, but didn't lose any in...

The fallout from the Rockets-Clippers tussle continues; no Clippers were disciplined
DH12 is picked for free throws after a teammate gets ejected. He makes both, and lets Scott...

Bell was injured defending a Robin Lopez dunk and had to be taken off the floor in a wheel...

Trevor Ariza and Gerald Green are reportedly both suspended two games