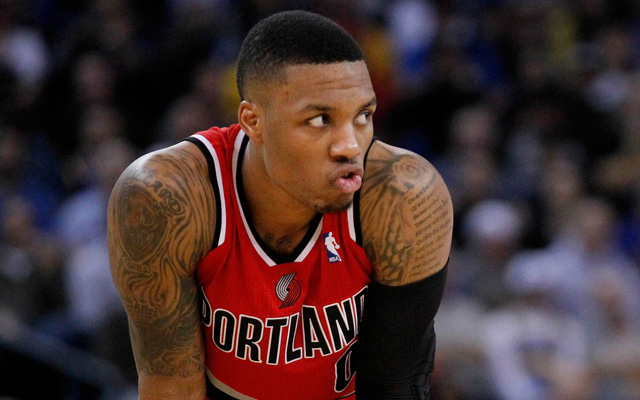 More postseason coverage: Playoff schedule, results | Latest news, notes
When Portland Trail Blazers guard Damian Lillard signed his new deal with Adidas last month, we knew the deal was big, but not exactly how big. Now, USA Today has a few more details, straight from his agent's mouth: 
When it comes to the business of basketball and one man's brand, no one has won in these playoffs quite like the Blazers' second-year point guard whose Adidas deal is believed to be the third largest in the entire NBA. The contract -- hich his agent, Aaron Goodwin of Goodwin Sports Management, told USA TODAY Sports could be "well over $100 million" with very-reachable incentives and is expected to eventually include a signature shoe and apparel -- was seen by some as a head-spinner when it was first revealed on April 14.

"I can say that I understand people who question the deal – most of them haven't done deals of this magnitude so they don't understand it," he said. "But at the end of the day the deal could be well over $100 million, and I don't have any problem saying that and Adidas wouldn't doubt that. Is it $100 million guaranteed? No, it's not. Is there an easy opportunity for that to happen? Absolutely."

"Is (the deal) a game-changer? Nah, I don't think it's game-changer…Will players ask for more now? I'm sure that's going on with Adidas, Nike, the other companies, right now. Will they get them? I completely doubt it."
via Damian Lillard's character got him giant shoe contract.
That's a lot of dough. But Lillard has shown himself to be an extremely engaging athlete. He's more polished than Derrick Rose was when he began his rise to stardom, even if Rose was more athletic before the knee injuries, long ago in the before times. He put himself on the map by being an active community leader in Portland and leading them to wins, winning Rookie of the Year, then helping them make the leap this season. He owned All-Star Weekend by participating in all the events, and then all that investment from Adidas started to pay off when he hit that monster shot in Game 6 vs. the Rockets. 
Even as the Blazers are set for a likely early second-round exit vs. the Spurs, it's hard to look back at 2013-2014 and find someone who's come out a winner more than Lillard. 
And he's got the cash to show it.