Dan Gilbert is sorry for the letter he wasn't sorry for five months ago
Gilbert says he deeply regrets letter and he realized it was wrong just months after the decision. Which is the exact opposite of what he said months ago.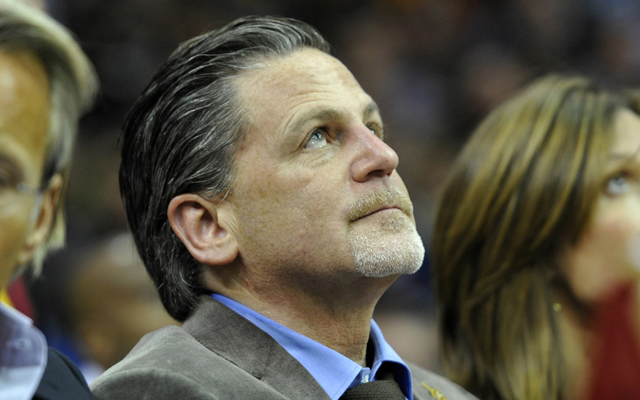 More on LeBron's return: James chooses Cleveland | Doyel: Welcome back to Ohio
In an interview with Yahoo Sports, Cavaliers owner Dan Gilbert says he told LeBron James when they met to discuss a possible return of James to Miami how sorry he was for the things he said about James after the decision, particularly in the infamous letter he wrote. He related how terrible he felt just months afterwards, and how he had realized what a mistake he made. 
"We had five great years together and one terrible night," Gilbert told James, and so started the process of reconciliation on Sunday night in Miami. "I told him how sorry I was, expressed regret for how that night went and how I let all the emotion and passion for situation carry me away. I told him I wish had never done it, that I wish I could take it back."

And soon, James told Gilbert that he wished he had never done "The Decision" on cable television and that they had made mistakes together, that they could move past it. From James and his agent Rich Paul and business manager Maverick Carter, the air of peace hung heavy in the South Florida air, the process of returning to Cleveland had begun in earnest. Soon, they had stopped talking about the past and talked about the possibility of a future together and for the first time – truly the first time – the possibility of reunification had become genuine.

"It was more comfortable than I actually thought it would be," Gilbert told Yahoo Sports on Friday afternoon. "They made it easy for me."

"Do a Google search on me, and it's the first thing that comes up," 

"For the first two months, I kept thousands of letters – not hundreds – thousands written to me. There were 90-year-old ladies and CEOs, and I realized that that letter had transcended the event, went far beyond LeBron. After a few months, I would re-read it and just be full of regret. That wasn't me, that wasn't who I am. I didn't mean most of the things I said in there. The venom it produced, from all sides … I wish … I wish I had never done it.

"I'm grateful that we all get another chance together now."
via How LeBron James forgave Cavs owner Dan Gilbert and returned to Cleveland - Yahoo Sports.
Oh, well that makes sense. I mean, he's been saying this consistently for years now right?
Oh, wait, hold on. 
From Ohio.com, in Feburary... of 2014. (Emphasis mine.)
Q: How about The Letter? As a whole, do you regret sending it?

A: I would've reworded the language in The Letter, but I don't regret sending a letter out to our fan base. People forget the letter was not to LeBron, it was to our fan base. If I had to do it again, for sure, I would've reworded several parts of it. But I think it definitely needed a strong statement from me at that time. I keep a couple binders on my desk and I have a binder of the responses to The Letter from the people of Cleveland. There's thousands, maybe 2,000 from every facet of life, from CEOs of big companies to hand-written letters from 94-year-old ladies, from street sweepers to policemen and firemen. The response went way beyond. For some reason, it appealed to this generational Cleveland thing. If you want to talk about books, someone should publish all the responses to The Letter. It was like, 'We're from Cleveland and we've been rejected.'

Q: Were you surprised by the reaction? Did you know it would cause that type of firestorm?

A: No, not to the extent that it did. I didn't think it would. Going back now and looking, yeah probably. But at the time? I didn't think it would become sort of the thing that it did.

Q: Has it had any negative impact on your organization over the last four years?

A: You never know for sure, but I haven't felt it or been aware of it. People said nobody would come here, that's not true. Do I think any players are going to not come here because Dan wrote a letter three or four years ago? I don't think so.
via Cavaliers owner Dan Gilbert talks about ups and downs and what's ahead - Cavs - Ohio.
So... let's just review this real quick. 
When LeBron James wasn't going to come back to Cleveland, he definitely didn't regret the letter and thought it was necessary. All those letters in the binder? They were from people who supported him, who thought it was a good thing he wrote it, that he was sticking up for them. 
And then, to be clear, when it turned out he actually did have a chance at James, then all of a sudden he's regretted it for years, and it has really plagued his soul. 
You guys, I don't want to alarm you, but apparently Dan Gilbert has mastered emotional time travel. 
By the way, he also wasn't sorry in October of 2010.
Look, it's fine for Gilbert to be a proud man who's passionate about his team and the city that he calls home. And by home, I mean, he has a team there and is from Detroit. That's fine. And it's fine if he realized that it was wrong afterward. And it would be fine if he really did have a change of heart in the last few months before he found out he could re-sign James and make oodles of money and have a contender again. 
But that's not what this shows. Either he was lying to Ohio.com in February or he's lying now. Either way, you notice in James' announcement letter that he stepped gingerly around the situation with Gilbert. This thing's over, and Gilbert won. But you have to wonder what exactly is the real story on this thing. 
Because whatever it is, it's not the oil slick that's spewing out of Gilbert's mouth right now. 
Players reportedly challenged Love for leaving Cleveland's game against OKC early

The Cavaliers are reportedly very close to acquiring the 10-year veteran point guard

Kobe Bryant is now an Oscar nominee. Here's how you can watch his short
Players such as Metta World Peace, Baron Davis and Nate Robinson have signed on

The guard is doing everything he can to make a name for himself (and making Cavs fans sweat...

Bryant is getting recognition for his off-the-court exploits in retirement