Dan Gilbert on Cavs winning before LeBron: 'How could I be so dumb?'
Cleveland owner Dan Gilbert is still apologizing for his infamous letter.
• 1 min read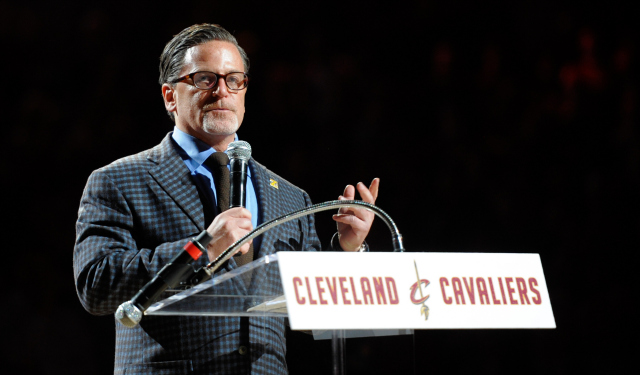 More Offseason Analysis: Coaching changes, news | Free Agency | Draft
Cleveland Cavaliers owner Dan Gilbert continued on his celebrating-the-King's-return-and-apologizing-for-his-letter tour, telling the Detroit Free Press' Mitch Albom that he should never have lashed out at LeBron James, that he should've listened to people trying to talk him out of it, that he would've been glad the two sides had cleared the air even if the superstar hadn't elected to come back. They hadn't spoken since The Decision, and after "maybe 15 or 20 minutes" of talking about the past when they met in secret last week, they started speaking about the future, he said.
"It really is an incredible relief. You can do 999 out of 1,000 things right, and the one wrong thing is who you become. It was a burden. But I couldn't blame anybody else."

He admits writing the Cavs would win an NBA title before James "was stupid. How could I be so dumb as to write that?"
Ah, yes. That old prediction. How silly that was, and how quickly it was apparent it would be very wrong. You'll notice now with James back, no one in Cleveland is making any guarantees. James directly said, "I'm not promising a championship" in his Sports Illustrated announcement, and, in an official statement, Cavs general manager David Griffin said, "Expectations will be at the highest levels but no one should expect immediate and automatic success." At least everyone is learning.
In some ways, it's easy to relate to Gilbert. Who among us hasn't said something regrettable in the heat of the moment? We all, sometimes, need to have the courage to admit we're wrong. That's the point of the Detroit Free Press piece. Gilbert's words end up ringing a little hollow, though, if you think about the fact that he was still refusing to publicly say he was sorry as recently as five months ago.
Victor Oladipo just wants to live his life and enjoy his breakout season with his new team

Keep it right here for all of the news, notes, scores, and highlights from around the Asso...

LeBron has a player option for next season, and is expected to opt out and become a free a...
The Pistons will be looking to snap a five-game losing streak when they host the Celtics on...

Bryant offers some advice for Ball and other rookies about having a sense of urgency in the...

Burks has stepped up in a big way for the Jazz, averaging over 20 points per game since Rodney...