Dan Reed resigns as NBA D-League president
Innovator of minor league system heads to Facebook, leaving league on verge of true one-to-one system.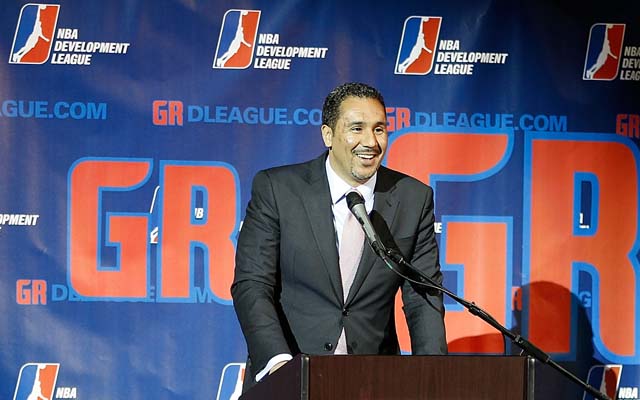 The NBA announced Monday that D-League President Dan Reed has resigned to take a new position as head of global sports partnerships for Facebook, effective August 1.  
"Dan's exceptional business acumen and tireless work ethic have lifted the NBA Development League to new heights," said NBA Deputy Commissioner Mark Tatum in a press release.  "We thank Dan for his contributions to the NBA and look forward to working with him in his new role."
"It's been a privilege working alongside so many talented people in the NBA family over the past decade," said Reed.  "I take great pride in the NBA D-League's success to date, and its incredibly bright future as both a business and a development resource for the NBA and the game of basketball."
It's a big loss for the NBA's minor league, which figures to have a big stake in the future of the league as it heads towards a one-to-one affiliate system it's been working towards for years and with the possibility of the D-League providing a more accepted alternative to college for players wanting to turn pro in the event the NBA raises the age limit. 
During Reed's tenure, the league significantly expanded the number of one-to-one affiiliates, with 17 scheduled for next season, a growth of more than half the league since Reed took office in 2007. The creation of the league's "hybrid relationship" allowed teams to purchase the basketball operations department for teams without having to manage the costs and operations of the D-League teams. Control over coaching staffs and player development remains the biggest sticking point for many of the teams remaining without an affiliate. 
Even beyond the growth of the league, Reed provided stability for a league that saw teams regularly folding when he took over. Since then, the league has become more and more a part of the NBA system, providing both players for call-up, and assignment of younger players needing development. Reed brought about new business opportunities including the broadcast of games on YouTube and CBS Sports Network, and implemented new basketball operations policies the league wanted to experiment with. 
The league is in considerably better shape than when Reed took over, and finding a replacement with the vision, vigor, and aggressiveness Reed showed will be key for the NBA. The D-League's not in a position to slow down, but needs to expand considerably in the next decade, with significant opportunities to become the true minor league system American basketball needs. 
Cuban weighed in on the ongoing feud between the basketball dad and the POTUS

Embiid has taken his trash-talk game to the next level this season, but he's not scared

Last year Durant said returning to his old home was 'never going to be a regular game'
The All-Star forward injured his wrist during Sunday's loss to the Lakers

Steven Adams believes he's the problem with the Thunder struggles in the clutch

LaVar claims that Luke Walton has been 'soft' on Lonzo so far