Danilo Gallinari done for the season after ACL surgery
The Nuggets won't be getting forward Danilo Gallinari back this season after reconstructive ACL surgery.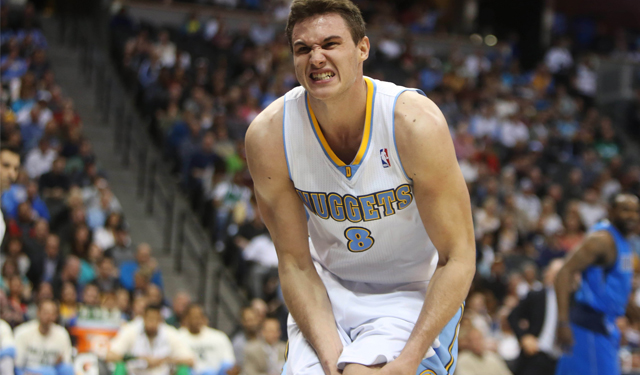 The Nuggets won't be getting forward Danilo Gallinari back this season after he underwent reconstructive ACL surgery, the team announced Tuesday.
Gallinari, who tore his ACL in April of last season, did not have ACL surgery at that time, but instead repaired his meniscus, as doctors felt it the ligaments may heal on their own. He was expected to return at the beginning of this season. 
"It was recently determined that the procedure that Danilo underwent on his knee this past summer was insufficient," Nuggets general manager Tim Connelly said in a statement. "Danilo's knee required that he undergo reconstruction of the ACL, which was successfully completed earlier this morning.
"Knowing Danilo's drive and work ethic, we look forward to a full recovery and a healthy return to the court next season."
Gallinari, 25, averaged 16.2 points and 5.2 rebounds in 71 games last season.
"It's disappointing," Nuggets coach Brian Shaw said, via the Denver Post. "The fact that we know how hard he worked rehabbing over the last few months to try to get back for this season. We feel for him, and know how tough a situation that is to deal with."
T.J. Warren gets paid big money by the Suns in a four-year deal

Melo didn't hold back on his feelings about President Donald Trump and urges for help in Puerto...

The Wizards star says the NFL won't change until important players like Brady and Rodgers speak...
Popovich spoke at length about sports, race, culture, and politics during Spurs media day on...

Carmelo Anthony finds the idea of coming off the bench very funny

Several teams spoke about Trump's recent comments about protests and the Warriors' White House...