Danilo Gallinari hopes to be ready for start of Nuggets' training camp
Denver Nuggets' forward Danilo Gallinari hopes to be ready for the team's training camp as he recovers from ACL surgery in January.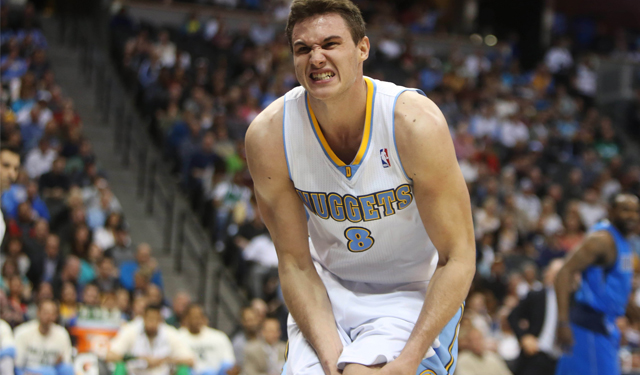 More postseason coverage: Playoff schedule, results | Latest news, notes
While the Denver Nuggets failed to make the playoffs for the first time since 2003, they never had a full complement of players at their disposal. They suffered through injuries to various players during a 36-46 campaign during the 2013-14 season, and never once had forward Danilo Gallinari on the court. Gallinari tore his ACL and meniscus in April of 2013.
Scott Howard-Cooper of NBA.com tells us that Gallinari is progressiing nicely in his rehab after having surgery in January. He believes the recovery process is going so well that he thinks he can be ready for the Nuggets' training camp at the end of September/beginning of October.
An upbeat Danilo Gallinari, speaking while attending the last of the three days of the adidas Eurocamp at the La Ghirada Sports Complex, says his knee rehab is going so well he could be on the court for the start of Nuggets training camp.

"I think training camp is realistic," he said. "It's something that we really talked about with the doctor. It's something that we really want to achieve and we believe is going to be possible."
Gallinari's ACL recovery hasn't been the typical process we've seen over the past few years when players tear the ligament. He had surgery to repair his meniscus after the initial injury, but the doctors didn't touch his ACL because they felt the ligaments would heal on their own. That didn't go to plan though, and he ended up needing ACL reconstructive surgery in January, which ended any chance of him coming back this past season.
He was the second leading scorer on the 2012-13 Nuggets team that won 57 games. He averaged 16.2 points on 41.8 percent from the field. He also made 37.3 percent of his 3-pointers. He has two years left on his contract paying him just over $22 million over those two seasons.
Miami is on Irving's list, but this package still wouldn't be enough to get a deal done

Some teams want to fight the Warriors, others want to 'fight' for the right to draft Michael...

Oklahoma City has reportedly offered the MVP a five-year extension worth over $200 million
The big man was a big part of the Warriors' championship run last season

The Cavs jokes were out in full force after Golden State reportedly agreed to sign Antonius...

New York seems to be at the top of Irving's list of preferred destinations