Danilo Gallinari suffers fractured thumb
Danilo Gallinari suffers fractured thumb against the Dallas Mavericks Monday night.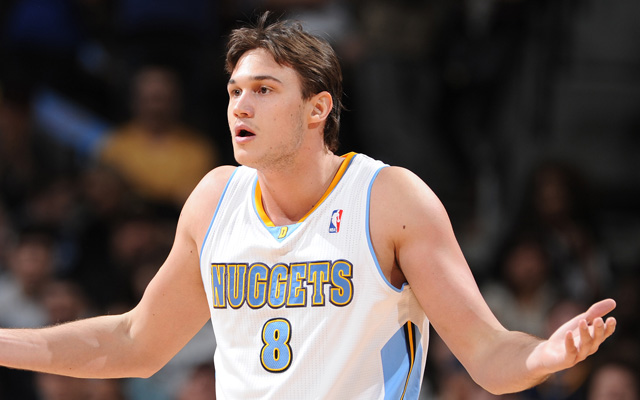 Danilo Gallinari suffered a fractured thumb Monday against the Mavericks.
(Getty Images)
The
<em>Denver Post</em>
reports on the injury sustained by Danilo Gallinari Monday against the Dallas Mavericks: 
Uh oh. Gallinari has a left thumb fracture, won't return

— Benjamin Hochman (@nuggetsnews) March 20, 2012
The Nuggets had just gotten Gallo back from injury after the All-Star break and he was starting to get his legs under him. It's not known at this point if Gallo will miss any time or just wear a brace, but a fracture is a fracture and that's never good. 
Andre Miller also suffered a shoulder contusion which will likely have an MRI Tuesday. The Nuggets were flush with all this depth after signing Wilson Chandler and all of a sudden have holes at reserve point guard and at small forward.  
We'll keep you updated on Gallinari and Milller's status.
We've got all the scores, highlights and news from all of Sunday's games

Is this rock bottom for the Cavaliers because it sure feels like it is

Wade, as he's done so many times in his career, threw it up to LeBron for the thunderous f...
The Warriors coach added there should be no shame in being picked last since everyone's an...

We've got all the scores, highlights and news from all of Saturday's games

The two teams have reportedly not had any substantial discussions to this point