Danny Ainge: Anxious Rajon Rondo behind D-League rehab idea
Boston Celtics' president Danny Ainge reveals that Rajon Rondo's so anxious to get some practice time in that D-League rehab stint was his idea.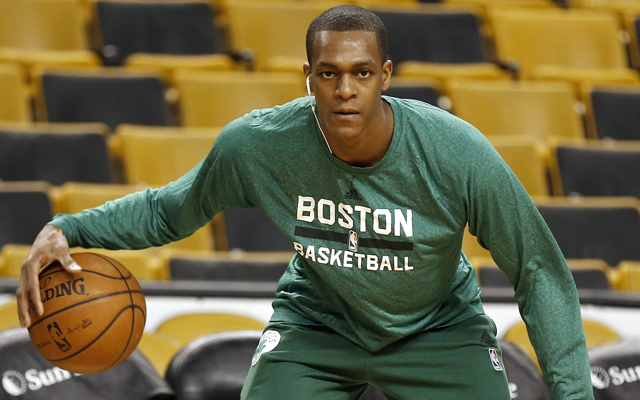 Boston Celtics point guard Rajon Rondo is extremely close to returning to the court. He's been practicing with the team but with the hectic NBA schedule, practice time isn't all that readily available. It's left Rondo out on the court by himself and trying to roundup Celtics' personnel to lace up their shoes in order to get some five-on-five run in. We even learned that Rondo moonlighting with the Maine Red Claws in the D-League could happen during his rehab process.
The idea of him playing in the D-League wasn't passed down from the organization either; it was his idea. According to Danny Ainge via ESPN Boston, Rondo has been so anxious to take the court for some practice time that he floated the possibility of him playing with the Red Claws in order to work some of the rust off his game.
According to president of basketball operations Danny Ainge, Rondo failed in that quest, which in part led to him initiating discussions about joining the Maine Red Claws of the D-League in order to gain practice reps.

"So we've been talking to Rajon -- he's just looking for opportunities," Ainge said Thursday during his weekly appearance on Boston sports radio 98.5 The Sports Hub. "It's funny, about 10 days ago he was looking for the guys in the office to get their gear on to go down and play 5-on-5 against him. There's not enough practice time -- there has been 5-on-5 practice, but we're not playing game-like and going up and down; we've been playing so many games.

"He's anxious to practice and to play. It was his idea [to consider Maine], actually, to go practice with the Red Claws and possibly play with Maine Red Claws at some point. But those are still in discussion. I'm not sure when he would do that, but that's probably the next step."
It was kind of a cool story when the idea of Rondo rehabbing some in the D-League was passed around because it's a smart way to utilize your affiliation with the pseudo minor league system. The fact that it was Rondo's idea makes it better. NBA players embracing the process of playing a game or two in the D-League when coming back from a major injury is probably the biggest hurdle toward making that a reality. 
NBA players want to go against the best competition and many could view heading down to the D-League as beneath them. However, being able to test out the healing body part while not putting any pressure on the team to possibly overcome your rusty play could be a key element to making sure players are ready to go when they come back.
Westbrook's late layup gave the Thunder a 109-108 victory

LeBron became the seventh player in league history to reach the milestone

There were a few things that stood out from Tuesday's All-Star selections
Here are three players from each conference who had legitimate claims to make the game

LeBron achieved the milestone in the first quarter Tuesday

Here are the full lineups for the 2018 NBA All-Star Game