Danny Ainge denies Rajon Rondo trade rumors
Celtics GM Danny Ainge expressed frustration over trade rumors involving Rajon Rondo that he says are unfounded.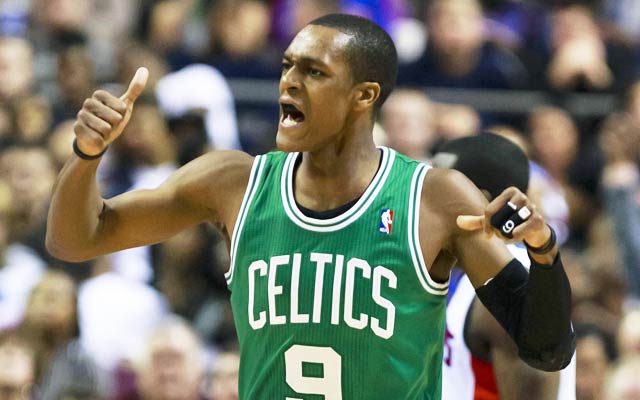 Getting a little tired of the same song and dance, Danny.
On Monday, the Boston Herald spoke to Danny Ainge, who denied, yet again, that the Celtics are at all interested in trading Rajon Rondo or have fielded calls in pursuit of such a deal. 
"I haven't talked to any teams about Rajon Rondo," Celts' president of basketball operation Danny Ainge told the Herald [Monday] morning.

He has, however, fielded a number of calls wanting to now if the rumors are true.

"It's frustrating," Ainge said.

He went on to reiterate that Rondo, still rehabbing from ACL surgery, is a major part of the Celtics' plans going forward.
via Celtics Insider | Boston Herald.
Do you know how many times we've heard this? Rondo has been involved in trade rumors for three years. You really think that's all made up? Just other GMs pranking Ainge? Are these rumors just journalists compromising their integrity across multiple outlets and timespans to try and sully the good Celtics name? 
If so, you shouldn't. 
Ainge is shopping everyone. He can toe the "We don't rebuild, we reload" line all he wants, but the team is awful whether Rondo comes back from ACL surgery or not, and Rondo has vexed the Celtics by being both an All-Star and a player of questionable ceiling for years. He's a phenomenal point guard who doesn't get along great with others, clashes with his coaches, struggles shooting and can make some of the most amazing plays at both ends you'll see in the league. 
That's the very model of a trade asset. 
But hey, a GM says they're not trading their most valuable player, so that's clearly the end of it. 
...
We'll see you next week when the next round of Rondo trade rumors "inexplicably" pop up.
Kevin Durant says he doesn't agree with what President Donald Trump agrees with

Evaluating where the future Hall of Famer might land up if he is freed from Chicago's rebuilding...

Adam Silver said his piece with the schedule out; we address that and what the slate looks...
The Hawks and Sharecare reportedly agreed to terms on a five-year deal

A look at the context of the schedule and who plays who when, and how far they travel during...

Durant took on rapper Lil Dicky and actually might have lost