Danny Ainge says Rajon Rondo was asked not to skip team flight
Danny Ainge says he asked Rajon Rondo not to skip out on traveling with the team, but the point guard did anyway.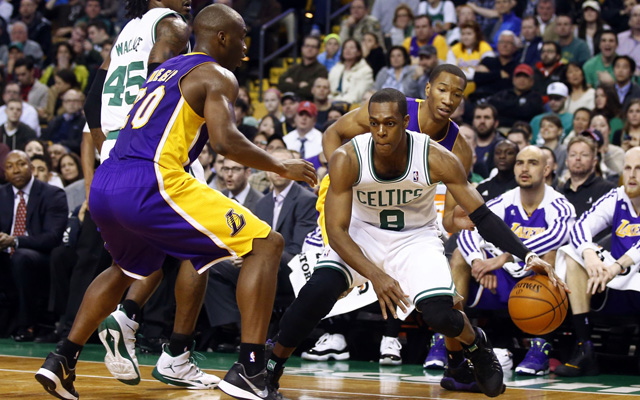 More NBA: Power Rankings | Expert Picks | Latest news, notes
Danny Ainge says he asked Rajon Rondo not to skip out on traveling with the team, but the mercurial point guard did anyway.
In an interview with Boston's CBS Sports radio on Wednesday, Ainge revealed the team knew of Rondo's intention to miss a team flight to Sacramento from Los Angeles, but specifically requested he not.
"He let Brad [Stevens] know and he let me know that he was going to stay in L.A. an extra day, and we didn't think that he should," Ainge said. "But it was his choice and [we told him] there may be consequences if you stay. It was that simple."
Rondo, who was scheduled to sit the second game of a back-to-back after playing in Los Angeles, stayed behind to celebrate his 28th birthday. 
"In the end, him and I had a long talk about it. He planned it before and he had reason to believe it would be OK. I understand his reason because of what he's grown up with and what he's witnessed. You won't see it happen again, and we've just moved on from it.

"I think that now Rondo understands more clearly what we want out of him as a captain. That we want him on the road with the team, and his leadership on the bench is important whether he plays or doesn't."
Added Ainge: "I talked with Rondo about why he did what he did. I didn't agree with it, but we had a good talk and we're over it."
Rondo is in an interesting spot, having been named team captain this season. And as a captain, the expectation is for leadership. Which in other words, not these sort of things.
"He is definitely our captain whether anyone gave him the title or not. That's his personality," Ainge said. "He didn't have the title the last five or six years, but he was still a captain. He was a coach on the floor and one of three or four captains with Paul [Pierce], Ray [Allen] and [Kevin Garnett]. They all act differently, and they all make mistakes by the way in their leadership roles, but I look at every guy on the team as a leader. You're either leading guys to do better, or leading guys to do worse.

"I have no issues whatsoever with Rondo being our captain. He's been acting like our captain for three or four years."
But Ainge stressed the team is over the situation and moving on with no issue.
"Rondo is an emotional, stubborn kid. He's very bright, and I don't mind these kinds of emotions," Ainge said. "What I care about is he a guy I want to play with, play for, if the guys on the team back him and want him on their side night in and night out. Those are the really important issues. Rondo is never going to become Tom Brady and say all the politically correct things and do everything we want him to do, but we still love him in spite of that because his teammates back him and want him on their side. They will go to war with Rondo, anytime.

"We've had a culture that has been a little different. It has been a great culture of winning, which is very important, and these kind of things have happened. We had a head coach that lived in a different city and would take different planes to different cities. We've had KG, who I think Rondo has learned more from as a leader and a pro than any other player. KG didn't sit on the bench when he didn't play, and Rondo has been doing that for every game, except that Sacramento game and Milwaukee game — which we held him back."
The Pacers believe the Lakers tampered with Paul George before they traded him

Among the questionable decisions by Jackson was signing Noah to a long-term, lucrative dea...

This Akron store doesn't want their hometown hero to leave again
Milwaukee's star did not get cleared to play for his national team due to a painful knee i...

Ball, the second overall pick in the NBA Draft, is receiving even more hype

Rap mogul supports the vision the outspoken father has for his brand and sons