D'Antoni debut on hold; Lakers coach 'not ready' for Rockets
Lakers coach Mike D'Antoni will not make his debut Sunday night against the Rockets because he's not ready to return to the sideline after undergoing knee replacement surgery.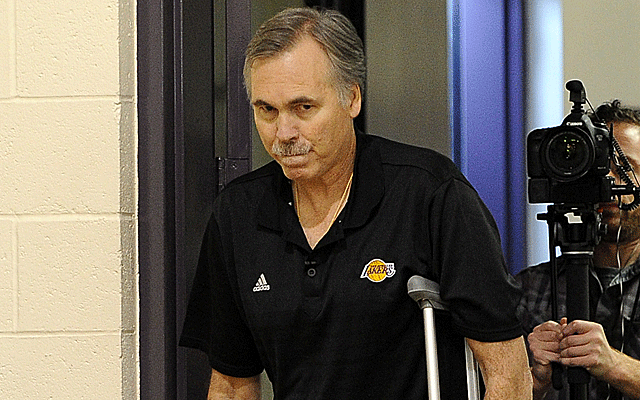 Still recovering from knee replacement surgery, Mike D'Antoni's Lakers debut has been pushed back.
(US Presswire)
LOS ANGELES -- The start of the new Showtime era will have to wait.
Lakers coach Mike D'Antoni is not making his debut Sunday night against the Rockets, saying he's "not quite ready" to return to the sideline barely three weeks after having knee replacement surgery.
The decision was made about three hours before tipoff when D'Antoni, hired to replace Mike Brown after the Lakers started 1-4, met with trainer Gary Vitti.
"I kept going, being headstrong," D'Antoni said. "And he kind of sat me down right before I came to talk to you guys and said, 'Come on, Mike. This is crazy. If somebody comes and bowls you over, you're a sitting duck.' And I know my coaches aren't real nimble. There's no way they're protecting me. ... I'm disappointed. I kind of got ahead of myself. I wanted it to be [Sunday night], but I'm just not quite there yet."
Bernie Bickerstaff, 3-1 as acting coach, is coaching the Houston game and has received assurances from D'Antoni that he'll be retained on the coaching staff.
"Unless he loses tonight," D'Antoni joked. "No pressure."
D'Antoni is day-to-day and will see how he feels before the Lakers' next game Tuesday night at home against Brooklyn.
As was the case Friday night against Phoenix, D'Antoni will address the team before the game, at halftime and after the game. Asked what kind of reception he's received from Lakers fans since arriving from the East Coast Wednesday, D'Antoni said, "From the people that deliver my room service, great. They're the only people I see, and we've become real close friends."
The decision to sit out at least one more game interrupted D'Antoni's matchup against the point guard who nearly saved his job in New York last season, the Rockets' Jeremy Lin.
"When I retire, when you get older and sit around, that's one of the best moments I've ever had coaching," D'Antoni said of the Linsanity period with the Knicks. "Great story, he deserves it. He's a good kid. Just one of those things that doesn't happen very often and I couldn't be happier for him."
We've got all the scores, highlights and news for Thursday night

The Sixers big man got his first All-Star selection -- and maybe some revenge -- on Thursd...

It appears some players are not entirely taking the All-Star voting process seriously
There were some weird discrepancies between the fan, media and player votes

LeBron and Steph will be the captains for the 2018 NBA All-Star Game

Arron Afflalo was involved in an altercation with Timberwolves big man Nemanja Bjelica on...