D'Antoni hints of agenda in Lakers' use of Howard, Gasol
Mike D'Antoni hints the Los Angeles Lakers went away from Pau Gasol last season to please Dwight Howard before he hit free agency.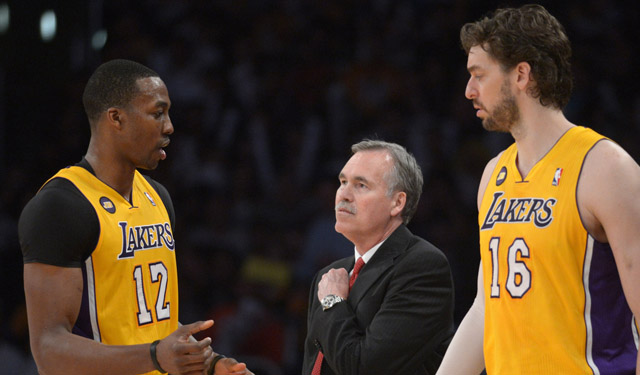 The Los Angeles Lakers are starting a new season. This isn't a joke about how many restart buttons they seemed to hit throughout the 2012-13 season, when injuries and cohesion issues plagued their championship expectations. The Lakers are actually beginning anew, and without Dwight Howard, who left LA for the Houston Rockets this summer. 
Mike D'Antoni missed the Lakers' training camp and preseason, taking over for the fired Mike Brown 10 games into the regular season. If he'd had that preparation time, maybe he could have found a way to implement an attack with both Dwight Howard and Pau Gasol when they were on the floor. Instead, it sounds like the Lakers' latest coach had to try to recruit Howard by going through him more and away from Gasol as the team began courting their free agent-to-be months before he hit the market.
The Los Angeles Lakers' pitch to try to convince Dwight Howard to stay started long before billboards sprung up around LA. 

Some six months before the billboards appeared, in positioning Howard as the franchise's future, the Lakers put Pau Gasol in the past, and often, on the bench. 

"We did have a free-agent market last year we had to be aware of, and you make certain arguments based on the future," Lakers coach Mike D'Antoni told ESPNLosAngeles.com. "Whether they're right or wrong, that's the reality of it, and we went that way, but it was never meant to be a slight to [Gasol] or never meant to be that he was the cause of our problems."
It's hard to say how much of this affected the Lakers on the floor because D'Antoni's system isn't exactly built for two big men playing inside, but overfeeding Howard in the post like he was the gluttony victim in Se7en does sound like something the team did last season when they were trying to prove to Howard he was their future. It's pretty telling that D'Antoni is basically saying he compromised the team's attack in order to sell Howard on his future with the Lakers.
This compromise was confirmed by Gasol, reports ESPNLA.com's Dave McMenamin.
"It was at times frustrating because of the reality of that specific situation," Gasol told ESPNLosAngeles.com in a phone interview from Barcelona. "Obviously the franchise wanted Dwight to stay and everyone, or a lot of people, tried to make him comfortable and please him at times." 
The question I have is would a healthy Gasol (and healthy Steve Nash) have made a balance easier to find, even as the Lakers tried to go more to Howard for reasons other than winning games?
D'Antoni's offense is designed to get big men touches going toward the hoop. And we saw Gasol and Andrew Bynum pair for a great high-low game under Phil Jackson and Mike Brown. Even if the Lakers weren't trying to make Howard a force in the post, would getting easy baskets off Gasol's passing and Nash's penetration have made Howard happier in LA?
"There was just a lot of factors last year that won't come up this year," D'Antoni said. "I even told [Gasol], you make decisions based a lot of times on the future that probably, if you were just doing the competitive, basketball thing, the decision would have been something else." 
The fact that D'Antoni is pumping up Gasol so early and trying to show that things will be different here is pretty interesting. Obviously, confidence is as big a part of Gasol's game as health. That's how most players are in the NBA. Over the last couple seasons, injuries and confusion about his role have really plagued Gasol and it's affected both his play and value tremendously.
D'Antoni admitting that the plan was wrong and vowing to play more to Gasol's strengths could go a long way toward building a relationship with a player who didn't seem sold on D'Antoni's system. If Gasol is healthy and still capable of showing a glimmer of a first step, he can still be very effective.
"I thought the games that Pau and I played together where Dwight didn't play, I thought we really played well together and the offense really flowed," Nash told ESPNLosAngeles.com. "So, I'm not concerned about that. That's going to be great."
The team did seem stuck in neutral when the coach's dream is to shove the accelerator through the floor, but I'm not sure how much of that was due to Dwight Howard being on the floor and how much of that was due to the team not really being healthy enough or deep enough to deal with the ups and downs of the Lakers' season. And there were certainly a lot of ups and downs throughout their 45-win season.
The Lakers were better on offense with Howard on the bench than they were with Howard on the floor by 1.5 points per 100 possessions. However, they were also 6.1 points per 100 possessions worse on defense when Howard was on the bench. Perhaps D'Antoni is looking at his projected roster and rotation for this coming season and feeling like they have to ramp up the offense in order to counteract expected subpar defense.
Regardless, he won't have to compromise his game plan values in an attempt to court an existing free agent already on his team.
Anthony reportedly gave the Knicks an expanded list of teams he'd waive his no-trade clause...

The Suns will also receive a second-round pick in the deal

Kerr noted Warriors are deeper than the NBA championship team of last season
The Dubs will make a decision as a team on visiting the White House, but Steph would vote...

Wolves are an up-and-coming NBA squad, but this region knows heartache too well

The Bucks will be the sixth team since 2011 for the 31-year-old Green