D'Antoni says Kobe Bryant playing opening night 'would be tough'
As we get closer and closer to opening night for the Los Angeles Lakers, it's sounding less and less like Kobe Bryant will be available to his team.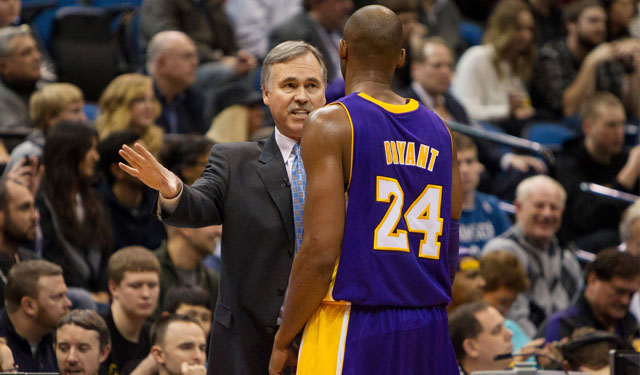 We have two weeks before the regular season kicks off for the 2013-14 NBA season, which means we have two more weeks of discussing whether or not Kobe Bryant will be able to play for the Los Angeles Lakers on opening night against the Los Angeles Clippers. Until that night in which he doesn't suit up (most likely), we're still going to have reporters asking Bryant, the team, and members of the organization what the likelihood is of their star player being able to compete in the first game.
After the Lakers' preseason game against the Golden State Warriors in China on Tuesday, a reporter asked coach Mike D'Antoni in the press conference about the chances of Bryant being able to play Oct. 29 against the Clippers. D'Antoni initially answered that there wasn't a chance for Bryant to play in that game, but then left the door open enough for two more weeks of questions to be asked.
Reporter: "Any chance that Kobe will be able to play in the first game against the Clippers?"

D'Antoni: "No. I don't think so. We'll see. I think it's an ongoing process but that would be tough."
We're still going to leave open the possibility of Kobe doing the seemingly impossible, like he's done much of his illustrious career. However, the return from a torn Achilles' tendon has always been one of the longest processes in professional sports and even someone like Bryant, whose body seems to pass the physical test even when it seems unlikely, will have to adhere to his body and not push it too far with such a touchy return. 
Until the Lakers and Bryant rule him out for Oct. 29, we'll continue this questioning. It has been roughly six months. What's another two weeks?
The former Knicks star returns to New York for the first time since joining the Thunder

Former longtime Knick Carmelo Anthony makes his return to New York

Mirotic and Portis combined for 49 points as the Bulls won their fifth straight game, beating...
Gobert, who missed 11 games earlier this season with a knee injury, will have an MRI

Get all the latest scores, news and highlights from Friday's NBA games

Porzingis is questionable for Carmelo Anthony's return to MSG on Saturday