Daryl Morey: 'There are at least three teams better than us'
Houston general manager Daryl Morey isn't afraid to admit that his Rockets probably aren't the team to beat right now.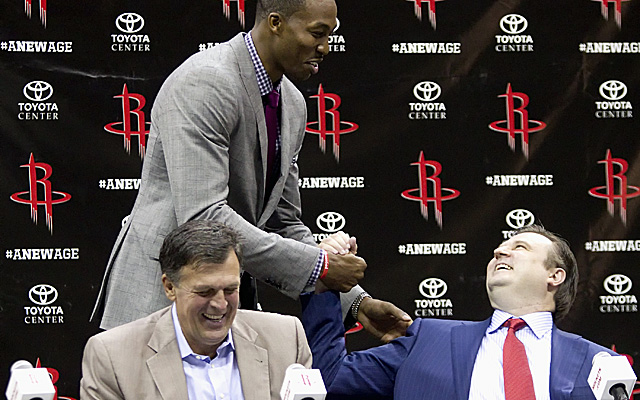 As soon as Dwight Howard's decision become official, the Rocketsimmediately became an apparent contender. 
Probably the best center in the game with a budding young roster with a superstar scoring guard has vaulted the Rockets from an up-and-coming bunch to quite possibly up-and-here. 
But general manager Daryl Morey isn't ready to go all-in and say his Rockets are the favorite. On MaD Radio, via CBS Houston, Morey says the Rockets are good, but not that good, yet.
"I think there are probably at least three teams better than us if not more," Morey said about the chances of winning a championship this season. "Until you're going into a season felling like you are the top one or two I think it's, and we haven't really accomplished anything, I think it's hard to talk about 'hey we're one of the favorites to win the championship.'  But I do think we go in with a chance, where as we haven't in the last few years."
Presented with the Heat, the Thunder and the Spurs, Morey said, "I think those three, I would say going in for sure are better than us, and they've definitely proven more. I think the Bulls and the Pacers they're very good as well this year. I am hoping we are in the mix with them, maybe equal quality."
So, where do the Rockets stand? The league does appear to have broken into tiers with the Heat as the clear favorite, with the Thunder and Spurs the most likely challengers. Behind them is the second group that the Rockets would probably be included in. Interesting to me in Morey's comments is that he omitted the Clippers, a team most have ahead of the Rockets in the current pecking order. 
But Morey apparently sees his squad as equals with them, along with the Warriors, Grizzlies, Knicks and Nets. And I don't think he's wrong either. Here's his reasoning:
"We go in (to the season) with two of the top ten players in the league ... We go in with a young roster, the youngest of the teams that are, I think, in contention."
It's kind of simple as that. Harden plus Howard equals a good team. Add in Jeremy Lin, Chandler Parsons, Omer Asik and some quality bit pieces, and the Rockets have quality depth and high level talent. Are they a favorite to win it? That's going to depend largely on Howard's health and if he can return to his former dominant form. 
Assuming that happens, the Rockets could pile up wins and be a threat in the Western Conference playoffs. 
Morey summarized it simply: "We've got a very good team with the ability to improve. Time will tell how good."
Gregg Popovich has never seen an injury lead to the issues that Kawhi Leonard has been fac...

Kobe Bryant, of course, had his 81-point game against Rose and the Raptors back in 2006

Keep it right here for all your Wednesday NBA scores, updates and highlights
A season-ending injury kept the Celtics guard's time at Duke very brief before he jumped to...

Here's a look at what has brought fans the most joy so far this season

Kevin Mackey says he gave Manute Bol a birthday because they didn't know how old he was