David Blatt on LeBron James: 'We're going to work together beautifully'
David Blatt speaks about coaching the Cleveland Cavaliers, Andrew Wiggins, and LeBron James after first summer league game.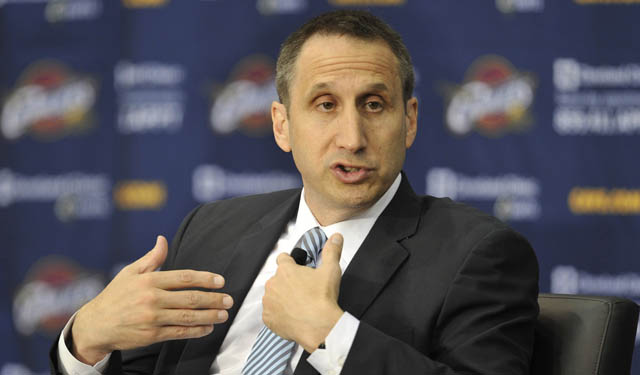 More Offseason Analysis: Coaching changes, news | Free Agency | Draft
LAS VEGAS -- There's a lot on the plate of David Blatt, LeBron James, Dan Gilbert, Andrew Wiggins, and the entire Cleveland Cavaliers organization. Things have changed immensely in the past month, as they've hired their next leader on the sidelines, drafted their future, and then buried the hatchet with the best basketball player in the NBA to the point of being able to bring him back home to Cleveland. Now, the Cavs have to get to work to build on the vision of LeBron, the new coach, and the young players of the organization creating a new vision of what this team is supposed to be.
The first small step of that was Friday's first summer league contest in Las Vegas when Andrew Wiggins made his summer debut for the Cavs, amidst trade speculation of possibly using him as the centerpiece of a trade for Minnesota Timberwolves' power forward Kevin Love. But nobody is going to talk about that. Media asking David Blatt about Wiggins trade speculation was shot down immediately. Next question. At least the new NBA coach can talk about the pressure of coaching LeBron, right? Next question to that too. Blatt isn't allowed to talk about that at this time.
What he can talk about is the excitement of the organization and his job and what it means to coach up LeBron as long as we're not going over the pressure of it. And Blatt was glowing when talking about LeBron.
"Obviously, I'm going to work with a great, great player," Blatt said after the Cavs' 70-68 summer victory, "and one of the great players of all time. But he's a basketball player and I'm a basketball coach and we're going to work together beautifully."
Blatt isn't new to coaching by any means. He's been one of the most successful international coaches and he's an incredibly impressive Olympic coach. He's coached close to 1,000 games in his career. Ask around about him and plenty of executives and coaches believe he's going to excel for the Cavaliers. That was the talk before LeBron agreed to come home. Now with the best player in the world, Blatt is excited not only for the organization but for the decision LeBron made for himself and his family.
"First and foremost, I'm happy for LeBron because he made a very difficult decision," Blatt gushed about his new team leader. "Obviously, he made a decision from the heart more than anything else. I respect him for it and I'm joyful for it. Second of all, for the Cleveland Cavaliers and the state of Ohio -- and if you were around Cleveland today you would understand what I'm talking about -- he just lifted a whole state by himself. I was thinking about that and the next thing I was thinking was I'm going to have an awfully good seat to see the best player in the world next year."
The challenge for Blatt is finding a way to make it all work with LeBron, Kyrie Irving, and the troupe of young players that includes Wiggins at the center of it. Some think Wiggins and LeBron will end up playing the same position on the wing, but that's not a concern to Blatt. Blatt doesn't worry about the names or numbers for positions. He wants players on the court and if you can play, he'll find a place for you in an ever-evolving scheme.
"You know, I've got to tell you the truth," Blatt said when asked about Wiggins' position in the NBA. "I'm not a real big guy for names for positions. You know, 1, 2, 3, 4, 5, or point guard and shooting guard and small forward and power forward. You've got to be a basketball player and he's a basketball player. He'll find a place to play and we'll find a place for him."
Wiggins looked good in his first summer league game. He was confident in his shot, even displaying a pretty deadly step-back jumper that looked balanced and pure. At times, his shot was erratic, but his floating was more of a spacing technique than it was him being indecisive. He competed on defense and made a couple of plays against Jabari Parker and Giannis Antetokounmpo. Wiggins' athleticism was impressive, turning the most basic of rebound attempts into oh's and ah's from the crowd. 
Blatt knows the adjustment from the college three to the NBA three will take work from Wiggins but his ability to be a two-way player right away will help offset any poor statistical nights. He just wants Wiggins to gain his confidence, like he wants Anthony Bennett, Dion Waiters, and Tristan Thompson to be more confident in their individual talents that bleed into a team concept overwhelming opponents. As LeBron said in his essay announcement, this is about building with the young guys and that's what the Cavaliers will do for now. 
The 17-year old son of the Cavs' coach sent his dad a quote not too long ago. It surprised Blatt because it was out of nowhere and he described his kid as someone who "barely talks." The quote was, "Danger is real; fear is a choice."
That's the goal of the Cavaliers. The beautiful basketball relationship between Blatt and LeBron, the growth of the players, the building of a basketball culture that will have deep roots in Cleveland, Ohio with an entire state and region behind them in a narrative dripping with redemption. It will be the choice of the opponent whether or not they want to fear this Cavs team on the court. But if it all comes together, the danger will be very real. 
A dive into the NBA history books for every result from every NBA All-Star Game

James set the tone during practice that this year's All-Star game was going to be differen...

The 76ers center handled 'mismatches' like they were nothing
LeBron James says he will continue his social activism no matter what people say about him

The 76ers guard is in hot water after a controversial video surfaced showing him using a racial...

LeBron James earned his third career All-Star Game MVP award