David Griffin: Kyrie Irving wasn't consulted on Mike Brown decision
The Cavaliers GM said that the team would balance offense and defense with its next coaching hire.
• 1 min read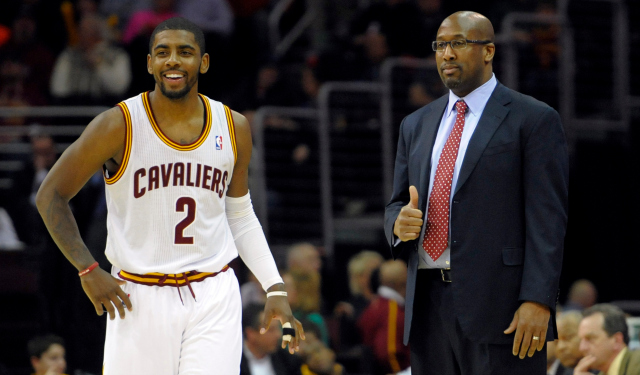 More NBA: Season Awards | Grades: East | Grades: West | Seasons in Review
Cleveland Cavaliers general manager David Griffin was emphatic at his press conference on Tuesday: Kyrie Irving had absolutely nothing to do with the firing of head coach Mike Brown one season into Brown's five-year contract, via Jodie Valade of the Cleveland Plain Dealer:
"Any -- any -- insinuation that Kyrie Irving had anything to do with this decision is patently false," Griffin said, pounding the table where he sat for emphasis. "It's unfair. He was not counseled on this decision, nor was he counseled on the previous decision. It's a completely unfair assertion and one that I want everyone to understand very clearly that is not a narrative we are going to go with."
There has long been speculation that Irving isn't exactly thrilled with the Cavaliers, with things reaching their lowest point in February right before Chris Grant was ousted as general manager. Late in the regular season, Irving strongly spoke out against the rumors that he wanted out of town.
Putting aside of how Irving felt during the season, the All-Star point guard will be a free agent at the end of next year if he does not sign a contract extension this summer. Cleveland is expected to offer him a five-year, maximum-salary extension, according to the Cleveland Plain Dealer, and obviously the head coach will be a factor in his decision.
Griffin did not have to ask Irving for input on Brown, and he does not want Irving to be perceived as a coach-killer, but if Griffin plans to continue building around him, it would only make sense to bring in a coach who will get along with Irving and get the most out of him. The general manager also said at the press conference that "it's fair to say the Cavaliers have had a defensive focus," and he wants a better balance between offense and defense in the future. Griffin spent 17 seasons in the Phoenix Suns organization, including the seven-seconds-or-less era.
Cleveland has yet to make its list of candidates, according to Jason Lloyd of the Akron Beacon Journal, but Alvin Gentry, who worked with Griffin in Phoenix, "will begin perhaps a rung higher on the list than others." 
LeBron and Durant both responded to a newswoman's recent comments, telling them to 'shut up...

Mitchell's Slam Dunk Contest win was the icing on the cake of an incredible run of success

Dennis Smith Jr. had a great dunk contest, but the judges didn't feel the same way
Mitchell was awesome, but Larry Nance Jr. and Dennis Smith Jr. had some serious moves of their...

Silver noted that there are many factors at play with the issue affecting both the NBA and...

Jazz rookie Donovan Mitchell came in as a replacement and ended up winning the whole thing