David Stern projects NBA revenue to increase to $5 billion this season
Associated Press reports David Stern is expecting a 20 percent increase in NBA revenue.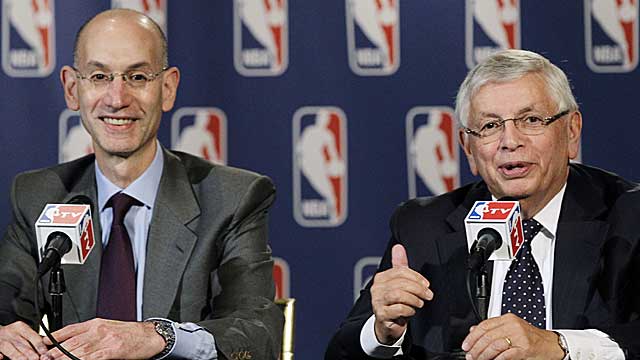 The NBA projects its revenue to increase 20 percent from the 2010-11 season.
(Getty Images)
One year after a long and arduous negotiating period during the NBA lockout in 2011, the NBA has magically bounced back financially. While speaking to the Beyond Sport United conference in New York on Tuesday, Stern estimated the NBA revenue would rise from roughly $4 billion to $5 billion this season. Via ProBasketballTalk:
NBA Commissioner David Stern estimates revenue will be a record $5 billion in the current season, an increase of about 20 percent from the league's last full season in 2010-11.

Speaking Tuesday at Beyond Sport United, a gathering of global team, league and industry executives at Yankee Stadium that focuses on social responsibility.
Five billion dollars is a lot of money.
After the NBA claimed losses of hundreds of millions of dollars during the lockout negotiations, the league is raking in the poker chips. Local television deals like the ones recently signed by the Los Angeles Lakers and Miami Heat are certainly a reason for this. The fact that NBA attendance didn't take a major hit from the fallout of the NBA lockout is also a reason for this.
The fact that the NBA could increase its revenue so significantly when the national broadcasting rights aren't going to be up for bidding for another couple years is a great sign for the health of the league. There are also the recent sales of the Memphis Grizzlies ($377 million) and New Orleans Hornets ($338 million) to show the league is quite fit at the moment.
There should be some negative reaction from fans, pundits, and players over this because it comes off as everybody was lied to during negotiations. The owners increased their haul from 43 percent of basketball-related income to 50 percent of the BRI. That's an extra $350 million dollars from what they would have made over the old system with how much they will bring in with the new system. 
That is what we call a "negotiating win."
The Warriors coach added there should be no shame in being picked last since everyone's an...

We've got all the scores, highlights and news from all of Saturday's games

The two teams have reportedly not had any substantial discussions to this point
Oladipo may be getting most of the shine, but this second-year big man has been phenomenal...

SportsLine's Mike McClure, a DFS pro with more than $1M in winnings, gives optimal lineup...

The Lakers were just 2-14 from the stripe