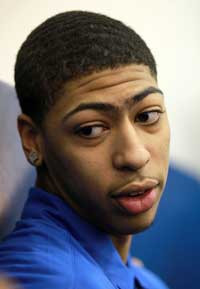 Anthony Davis will lead the Green Room pack.
(Getty Images)
NBA commissioner David Stern's version of a Mock Draft is the annual Green Room invites list.
Every year, roughly a dozen Draft prospects are invited to sit with their families and agents in the "Green Room," a makeshift, television-friendly area adjacent to the stage. The Green Room invites list often winds up mirroring the players selected in the 2012 NBA Draft Lottery, as the players are carefully selected so as to avoid the awkwardness that goes with a player sitting all by himself after slipping out of the Lottery.
DraftExpress.com reports that, as of Monday, the following 14 players have been invited to the Green Room for this year's Draft, set for Thursday in Newark.
UNC F Harrison Barnes
Florida G Bradley Beal
Kentucky F/C Anthony Davis
UConn C Andre Drummond
UNC F John Henson
Kentucky F Michael Kidd-Gilchrist
UConn G Jeremy Lamb
Illinois C Meyers Leonard
Weber State G Damian Lillard
Duke G Austin Rivers
Kansas F Thomas Robinson
Washington F Terrence Ross
Syracuse G Dion Waiters
UNC C Tyler Zeller
The list is about as unsurprising as it gets. Davis, obviously, is the consensus No. 1 overall pick. Barnes, Beal, Drummond, Kidd-Gilchrist and Robinson are expected by most analysts to go in some order from 2-6. The rest -- Henson, Leonard, Lillard, Rivers, Ross, Waiters and Zeller -- are all season as Lottery picks on most major mock drafts.
The two biggest omissions --as of Monday -- are UNC point guard Kendall Marshall and Ohio State forward Jared Sullinger. Marshall, a pass-first point guard, has been seen as a fringe Lottery prospect while Sullinger, a burly interior scorer and rebounder, was expected to be a Lottery lock before news broke recently that he's dealing with a potentially serious back injury. 
In 2011, the NBA invited 15 players to the green room: Kyrie Irving, Derrick Williams, Enes Kanter, Brandon Knight, Kemba Walker, Jonas Valanciunas, Jan Vesely, Kawhi Leonard, Chris Singleton, Klay Thompson, Tristan Thompson, Jimmer Fredette, Marcus Morris and Markieff Morris. Singleton, who was selected No. 18 by the Washington Wizards, was the only player in the group that slipped out of the top 15.