DeAndre Jordan's contract year could push Clippers over the top in 2014-15
With DeAndre Jordan heading into a contract year for 2014-15, the Los Angeles Clippers look to benefit as much as their improving center does.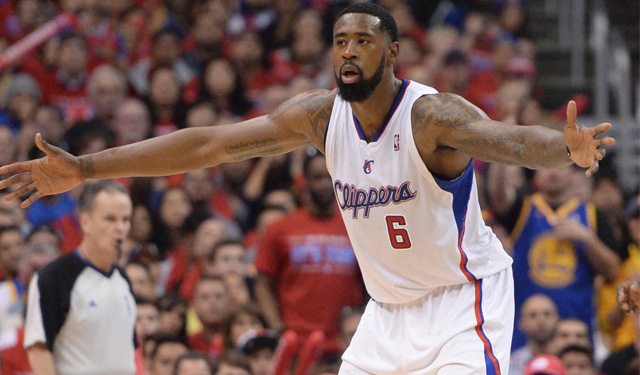 More Offseason Analysis: Coaching changes, news | Free Agency | Draft
Back during the lockout-truncated free agency madness in December of 2011, teams were trying to steal players away in the "day after Thanksgiving-esque rush to grab the best deals." One of the best examples of this was the Golden State Warriors' attempt to sign DeAndre Jordan away from the Los Angeles Clippers as a restricted free agent.
Jordan had just finished his third season in the NBA as a second round pick out of Texas A&M. He had supplanted Chris Kaman as the starting center in Clipper Land, pushing the former All-Star out the door to the Dallas Mavericks that ensuing offseason. The young center averaged career-highs in points (7.1), rebounds (7.2), blocks (1.8), and minutes (25.9) while making 68.6 percent of his shot attempts. His minutes had been jerked around by Vinny Del Negro, who clearly didn't trust his free throw shooting (45.2 percent) in fourth quarters, but he was clearly the center of the future for the Clippers.
That didn't stop the Warriors from trying to steal the human outlier when it comes to athleticism. They offered him four years and $43 million. He signed the offer sheet, putting pressure on the Clippers to match the deal in a shortened period of time for matching or declining offer sheets than what teams had been used to in the previous Collective Bargaining Agreement. But the Clippers had the vision of their future as clear as day.
With Blake Griffin, Jordan's best friend on the team, becoming a star from Day 1 of his rookie season, the Clippers wanted Jordan as a running mate inside. They were also about to pull off a trade for Chris Paul a few days later, giving them instant credibility as a franchise for the first time since Sam Cassell was showing everybody how unafraid he was in clutch situations. The Clippers were becoming a real franchise for once and Jordan was a part of that. He wasn't as big of a part as Griffin or Paul, but he mattered.
After one season under Doc Rivers, Jordan flourished on the defensive end of the floor. In his first five seasons in the NBA, Jordan was capable of blocking shots, but a lot of them seemed empty. He'd provide the highlight, but it didn't stop the other team from regularly scoring whether Jordan was on the floor or not. In 2013-14, the Clippers gave up a slightly lower percentage in the restricted area when Jordan was on the floor, but they also gave up 3.0 percent fewer shot attempts in the paint with DeAndre patrolling the key.
His athleticism wasn't just a highlight factory anymore; he was actually a deterrent at the rim and he got better as the season went along. The Clippers with Jordan on the court after the All-Star break protected the restricted area 4.7 percent better than they had with Jordan on the court prior to the break. Jordan was the leading rebounder in the NBA, had the second most blocks total, and the third highest blocks per game in the league.
The Clippers' center will be a free agent in 2015. When he signed his offer sheet with the Warriors in 2011, people were shocked at the thought of Jordan making $11 million per season. He hadn't really done anything to warrant that kind of deal and you were simply paying him based on what you were hoping he becomes. He was still a raw commodity in the NBA world. And now?
Jordan isn't one of the best centers in the NBA across the board. He's not going to be someone you run a lot of post plays for and he's still a nightmare at the free throw line. But nobody rebounded like him last season and he's turned himself into someone who finished third in Defensive Player of the Year voting. Things like that matter, especially in the development of someone who is such a deadly weapon in the pick-and-roll with a point guard like Chris Paul.
He'll be knocking on the door of 27 years old when he hits the free agent market in 2015 and he's going to command a bigger salary than when he was trying to be poached and paid based on potential. Re-signing Jordan on the open market will push the Clippers and new owner Steve Ballmer deep into the luxury tax. They're slated to be $2.6 million over the tax in 2014-15, but with $71 million already committed for 2015-16, the luxury tax hit to keep Jordan will be significant.
Luckily for the Clippers, his financial growth has ended up being their gain. Lob City is more substance now than it ever has been and his improvement is a big part of that. After just one year under Rivers, he's helped become a devastating force for them on both ends of the floor. Even keeping his game where it currently is would warrant All-Star consideration over the next few seasons when he'll be entering his prime as a big man.
We've seen plenty of players put out extra effort, show their biggest improvements, or even just randomly pile up better stats for their team and themselves in contract years. Four years ago, it was Jordan ushering Kaman out the door with some mildly impressive improvements and numbers. In 2013-14, Jordan was given confidence by his coach for the first time in his career and he turned that into averaging a double-double (10.4 points and 13.6 rebounds, both career-highs), a career-high in blocks (2.5), steals (1.0), and minutes (35.0). He also led the league in field goal percentage (67.6 percent). 
That improvement for his contract year might be a better post game or an even better understanding of how to protect the rim and his teammates on defense. Maybe he'll even creep back over 50.0 percent from the charity stripe for the second time in his career and make the Hack-a-Jordan tactics a mathematical win for the Clippers?
What we do know with DeAndre Jordan heading into his seventh season in the NBA is he's now being paid for having an actual impact and a real statistical output (that happens to be a little unusually historic as well). In fact, he may even be underpaid at this point, just like the Clippers were hoping he would be when they matched the offer sheet before the 2011-12 season.
In the summer of 2015, teams probably won't have any luck stealing DeAndre Jordan away from the Clippers this time either.
A look at who came out ahead after Tuesday's megadeal swaps the point guards on the East's...

How the addition of IT changes the Cavs and where they go this summer depending on LeBron's...

Ainge said that he expects the start of Thomas' season to be delayed, but he'll be 'fine'...
The NBA MVP odds have shifted quite a bit following the blockbuster Kyrie Irving - Isaiah Thomas...

It's debatable whether Boston gets better right away with Irving, but the future is definitely...

Kyrie Irving was set to grace the cover of this year's video game in a Cavs jersey -- whoo...