DeAndre Jordan's improvement key to Clippers' new elite defense
Clippers center has made huge impact on league's best defense in March.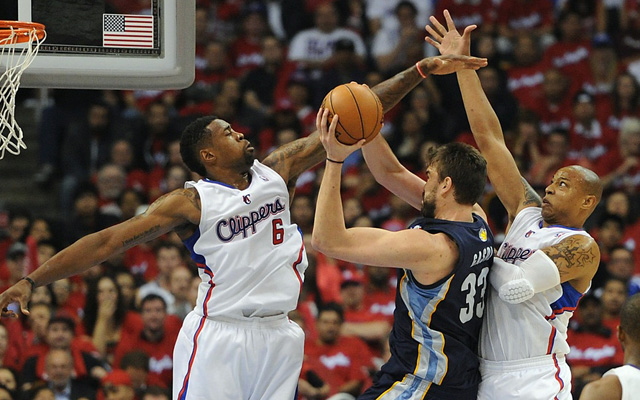 More NBA: Power Rankings | Expert Picks | Latest news, notes
I've been critical and skeptical of the Los Angeles Clippers' defense all season. Their numbers have been terrific. But they've been inconsistent. Their league-rank in points per possession via NBA.com month by month since November: 14, 3, 15, 20 and then in March they've been insane, allowing just over 97 points per 100 possessions, best in the league. Their inconsistency has been good enough to generate an 8th overall ranking in points per possession.
... But it doesn't feel that way. I'm a pretty big numbers guy, if you couldn't tell, but watching the Clippers, you always got the sense that they were beating up on bad teams defensively. In early February, I looked at the numbers and they were giving up the second-most points per possession of any team in the Western playoffs. Doc Rivers even agreed that they weren't there yet. 
One of the biggest problems was inside. DeAndre Jordan's rebounding and block numbers have been fantastic, but all the data suggested that the team was vulnerable defensively with him on the floor. I noticed in particular that teams could kill the Clippers on basline backdoor cuts, often finding scores underneath the defense's umbrella. Jordan was actually tracked by the SportVU camera system as one of the worst at contesting shots at the rim. 
But in recent weeks, as I mentioned, they've turned it around. They look like a genuinely different and better team. Their rotations are sharper, their focus has improved, communication is substantially better than it has ever been in the Blake Griffin era. And their rim protection is leaps and bounds improved. Here's what Rivers told reporters in Denver earlier this month. 
"We're less of a spurt team now," Rivers said, "we're becoming a good team defensively. We'll have our nights, like everybody else, but overall I think our guys are pretty focused on what we're supposed to do. They're doing it, they recognize when they're not doing it. They're almost able to correct themselves, which is a great sign."
ClipperBlog broke down how much better DeAndre Jordan has gotten, and it's eye-opening (emphasis mine): 
Since the All-Star Break, his rim protection has been truly spectacular. Jordan is contesting 11.6 shots per game, raising his season average to 10.4 contests per game (tied for first in the league). He is contesting nearly 55 percent of opponents shots at the rim while he is on the floor. Over a full season, this would put Jordan sixth among all big men and second only to presumptive DPOY front runner Roy Hibbert among players averaging more than 20 minutes per game. DeAndre is "saving" just two points per game over the expectation of a league average big man (Points saved is an estimate of the effect a league average big man has on contesting shots at the rim with respect to both FG% allowed and number of contests, adjusted for pace and general team defense). This would rank fourth in the league behind Hibbert (far and away leader at over four points saved per game), Robin Lopez and only fractionally behind Andrew Bogut.

Over the course of the season, Jordan has gone from a clear negative (giving over an extra point per game versus an average defender) to strongly positive, saving almost three quarters of a point per game over an average defender. This puts him at around the 80th percentile of rim defenders, comparable to Dwight Howard and Amir Johnson. In fact, since that well-discussed poor start, he is saving approximately 1.75 points per game, which would also put him fourth for the entire season.
via » DeAndre Jordan and Rim Protection: An update - ClipperBlog – News, Commentary for NBA Clipper Fans.
If their defense can execute like this, if they can protect the rim with Jordan's size and athleticism, if Blake Griffin can play at the level he has, if their wings can provide lockdown on shooters, if the Clippers can get stops late in a game and give their offense a chance...
Giannis, who spent last weekend in L.A. for the All-Star Game, says he loves 'low-key' Mil...

We've got all the scores, highlights and news from the first day back from the All-Star br...

Smart, set to return Friday, said doctors told him he was very lucky that the glass did not...
Word got back to Irving that the team was discussing options, and he didn't like it one bi...

An ongoing investigation continues to reveal details about the Mavericks' workplace

Larry Hartstein has his finger on the pulse of Kings basketball and just released a play for...