Decision 2.0: What if LeBron James joined the Lakers?
With LeBron James expected to make his second huge free agency decision in four years this week, we're taking you through the Lakers option.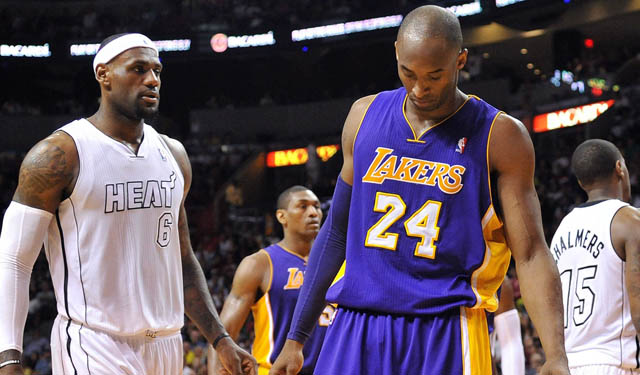 More Offseason Analysis: Coaching changes, news | Free Agency | Draft
What would LeBron James look like if he ended up on the Los Angeles Lakers this summer? Would it be a good move for him in terms of basketball? Would the team be able to build around him and Kobe Bryant with the current salary structure? Would the basketball itself work?
As we look around the different options for how LeBron would fit with the suitors of this free agent market, the Lakers may end up being the most interesting options from the standpoint of how everything would have to come together. Let's take a look at what LeBron as a Laker would mean for him, the team, and the league.
The Money
This is what the Lakers are supposed to do, right? They're supposed to attract the biggest stars and have the upper hand when it comes to players looking for a place to go. It's what got them Shaquille O'Neal back in 1996. It's what kept Kobe in town when he was considering bolting for a new locker room and jersey. And in this scenario, it's what's drawing LeBron to the Lakers as a free agent in 2014. His agent Rich Paul wouldn't have allowed a meeting with the Lakers if this weren't the case because they're not exactly set up for success at the moment.
Heading into the summer of 2014, the Lakers have $23.5 million committed to Bryant next season, $9.7 million to Steve Nash, and roughly $2.5 million to Julius Randle once he's signed, and $915,000 to Robert Sacre. That leaves nine roster spots and about $26.5 million to play with (assuming cap raises to $63.2 million as expected) in acquiring players under the salary cap. They also have a huge cap hold on big man Pau Gasol and cap holds for the open roster spots. But you can finagle those last two aspects to add some talent to the roster, possibly keep Gasol at a discounted rate if he wants to play with LeBron and Kobe in this scenario, and start looking for cheap veterans to add.
LeBron's max contract should start around $20.7 million, which would leave the Lakers with about $5.8 million of cap space. That's not a lot to play with when you're filling in a roster, but the idea would be to get the big piece now and then fill it in over the next couple years. Is that good enough for both LeBron and Kobe who are looking to add to their respective title tallies? Probably not but we are going to pretend it is in this case. Let's say they keep Pau Gasol for $5.8 million and fill in the roster with minimum players the rest of the way.
You're looking at a core of Nash, Bryant, LeBron, Randle, and Gasol with Sacre as a bench player. How else could they fill out the roster? Veterans like Glen Davis, Richard Jefferson, Beno Udrih, Al Harrington, and Rashard Lewis could fill out a roster with the veteran's minimum. It's been reported that Ray Allen wants to go wherever LeBron ends up, but would he go for a minimum deal? Could they adjust money going to Pau in order to find the room mid-level exception for Allen? This roster still has holes but under this idea, they may be able to plug enough of them to give LeBron and Kobe the confidence they need to go after the next title for the Lakers.
How could it work on the court?
The Team on the Court
First and foremost, the Lakers need a coach. Without knowing who that would be, it's hard to know the play style of this pretend version of the Lakers. Who would be the best available option right now? Mark Jackson? Jeff Van Gundy? Byron Scott?
The key to the Lakers' success in this case would be health. There isn't much room for error here and with Gasol and Nash's injury history over the last couple seasons, that's a precarious situation. And with Bryant's injuries the last 16 months, caution in assuming he'll be 100 percent healthy or definitely able to play an entire season is recommended until he can prove otherwise. The components on the court would be nice though, if everybody is healthy.
Defensively, you'd need to Randle to be able to cover a lot and learn quickly on that end of the floor. He'd have to complement Gasol and if they can't be great stopping players around the rim, they'd have to be great at ending possessions with defensive rebounding. Nash and Bryant aren't good (consistent in Kobe's case) perimeter defenders, so James may have to play a lot of free safety out there. 
Offensively, the ball movement of this team would be superb. Gasol is one of the best passing big men in the NBA, even as he's declined over the last couple years. Nash's passing ability doesn't need an explanation here because he can be both the best passer off the dribble and off the catch to swing to the next person. LeBron's passing ability would likely run the offense, allowing him to pick between strong shooters on the floor and players with high basketball IQs looking to find the pockets in the defense to do some scoring damage.
The role players on the floor would need to be able to stretch the defense with outside shooting, but this scenario has enough of that covered for the Lakers. But what about LeBron and Kobe coexisting?
LeBron and Kobe
LeBron James would be the new Lakers star. Sure, he'd have to build up some credit with a Lakers fan base that has been quick to dismiss his accomplishments in an attempt to keep those of Kobe Bryant on a much higher pedestal, but the transition would be relatively easy once he's on the court. But while LeBron would be the new star, Kobe would still be the fan favorite and the Lakers legend on the court, which would be an important distinction for how this team is viewed. Finding the right marriage on the hardwood for these two would be a similar feeling-out process that we saw with LeBron and Wade four years ago.
The Lakers would need Kobe to be off the ball a lot more. This would mean he needs to be willing to make the extra pass when necessary, hit spot-up jumpers, and find more scoring in the post to maximize scoring chances. Two of these things are pretty easy for Bryant to do right away. 
Kobe has been one of the better post players in the league for years now, executing with flawless footwork and incredible strength for his position to get off clean attempts against defenders. In the 2012-13 season, it was the thing he did the most on offense outside of isolation scoring chances and being the scorer/ball handler in the pick-and-roll. He was still excellent at posting up too. He was in the 93rd percentile for scoring efficiency, making 55.3 percent of his shots out of the post. Having LeBron and Nash getting him the ball when he has great post position wouldn't be a problem.
The passing ability of Kobe is something that's often underrated. For his career, he's scored 25.5 points per game with an assist percentage of 24.3 percent. There are only six players in NBA history with numbers like that and Kobe is one of them. While Bryant has been much more likely to trust himself in clutch situations than any other player on his team, he still creates for teammates quite a bit. It doesn't seem like he'd worry about giving the ball to LeBron if the situation called for it and LeBron would be running the majority of the offense anyway.
The spot-up shooting is the big question. For the Heat, LeBron to Wade has often been a below-the-arc type of option because Wade is a historically bad 3-point shooter. Kobe isn't nearly as bad as Wade, but a career 33.5 percent success rate behind the arc doesn't blow you away. In 2012-13 when Kobe was supposed to have a lot of help on offense (granted injuries changed that), he only made 35.8 percent of his spot-up attempts (effective field goal percentage of 46.0 percent). In catch-and-shoot situations, he was solid when unguarded (43.3 percent FG, 57.5 percent eFG) but his guarded attempts were erratic (35.9 percent FG, 48.9 percent eFG). 
That's not to say Kobe isn't talented enough to be better at it, but it's something we haven't seen much consistent success in as of late. With LeBron and Nash getting him the ball with quicker decisions and right into the shooting pocket, it's possible Bryant's efficiency in that department would skyrocket. 
The biggest question would come down to end of game situations when LeBron wants to make the right play (whatever that is) while Kobe wants to take the big shot (whether it's a good look or not). Could they develop a two-man game with each other? Would one player consistently defer to the other to make take over the big moment? Do the personalities match up when they'll be judged by their bravado and alpha male tendencies?
There are a lot of questions to be answered still in this scenario, like how the Lakers add a third star (Kevin Love anybody?) to the roster next summer or how they handle Kobe's last years with the team. But we know James can play anywhere and Kobe can be successful playing next to a dominant force. We just don't know if it would be enough to really let the Lakers contend for a title right away or if they'd simply dominate the online tabloids with the drama we've craved over the past four years.
Cheese Chisholm and Jet Rivers said they'd be happy to welcome the Ball brothers as teamma...

SportsLine's advanced computer model simulated Monday night's Celtics-Pacers game 10,000 t...

Kerr also chimed in on what an MJ vs. Kobe one-on-one game might look like
The former NBA player plans on making more money in retirement than he did while playing

SportsLine's advanced computer model simulated Monday night's Lakers-Warriors game 10,000...

Galin Dragiev has his finger on the pulse of the Nuggets and locked in a strong pick for Monday's...