DeMarcus Cousins has tried to recruit Rudy Gay to stay with Kings
The volatile star has tried to keep the versatile, inefficient forward in Sacramento.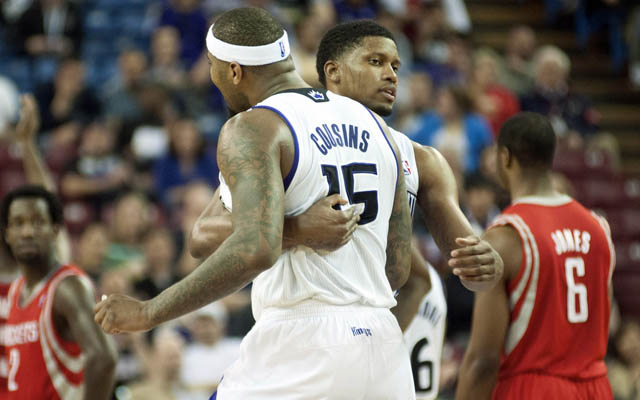 The Sacramento Bee reports that Kings center DeMarcus Cousins is recruiting Rudy Gay who has an option to become a free agent, in an effort to get the versatile forward to stay in Sacramento.
DeMarcus Cousins said he has reached out to Rudy Gay about staying with the Kings. The two meshed well on the court.

— Jason Jones (@mr_jasonjones) June 19, 2014
It's a positive sign of leadership from Cousins, who emerged last season as a legitimate superstar, and showed some small signs of maturity. This news actually reinforces an important point -- Cousins has never had trouble off the court, he only mouths off and has bad habits on it. If he can curtail those and show more of the happy, pleasant side of himself that his teammates at Kentucky got to know, he can pull off things like the recruiting of stars. 
Still, Gay's a veteran, and he's more likely to be swayed by older stars than the younger component, and Cousins is also someone likely to swallow up post touches from him. We'll see if the pitch to Gay has an impact on keeping him with the Kings ... and for how much. Gay's inefficient offense took an upturn in Sacramento, but the Kings have to be careful with not breaking the bank for a guy who may only be worth third-best-player money. 
We break down which rookies have been most valuable to their respective teams so far this...

Will the Mavericks follow Mark Cuban's wishes and start losing?

Kuzma says he had to step his fashion game up when he joined the NBA
The Rockets will try to extend their 10-game winning streak

It's a different league now, but the veteran is filling a void for New Orleans after his four-year...

The Bulls lead by three with 10 seconds left but lost 116-115