DeMarcus Cousins: 'I would be crushed' if cut from Team USA
Kings center says he would still come back to try again in two years as he faces rumors he'll be cut for Mason Plumlee.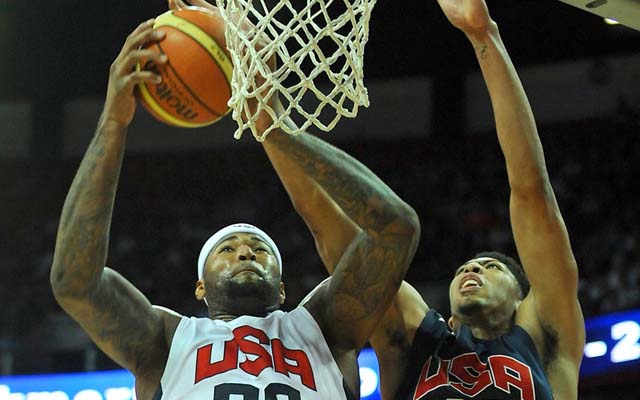 Offseason: Free Agency | Latest from Ken Berger | Rumors
Sacramento Kings forward DeMarcus Cousins was rumored to be facing the possibility of being beaten out for a spot on Team USA by Mason Plumlee. On Thursday, Cousins spoke with the Sacramento Bee before the reports surfaced (actually at the same time -- Cousins was shown tweets about the reports while the interview was taking place). He talked about how much the opportunity means to him.
Have you heard anything about your chances?

Nothing. They don't really tell us much. I saw Coach K in the elevator, but we just chatted.

How disappointed would you be if you don't make the team?

I would be crushed. Everyone knows how much I want to do this. This is my third year here (two with Select Team), and I don't run from any challenge. I would be crushed, but I'm not a quitter. I would come back and try again.
via Ailene Voisin: A Q&A with Kings center DeMarcus Cousins - Ailene Voisin - The Sacramento Bee.
Cousins is often criticized for his attitude, which is thought to be the culprit with his Team USA problems, along with defensive struggles. But he clearly wants to be a part of Team USA badly, especially to say he would come back after being cut twice. But the coaching staff's response would probably be that if he's that serious about wanting to be a part of the team that he needs to play like it. That means playing better defense, something Cousins admits in the interview he needs to improve on.
Initial cuts have been postponed in the wake of Paul George's traumatic injury. We'll have to see if Cousins' scrimmage performance, before it was cut short following George's injury, will earn him a spot. Cousins was active on the glass and attacked offensively, but still didn't show much defensively. Anthony Davis is considered the favorite to play starting center.
CBS Sports HQ Daily Newsletter
Get the best highlights and stories - yeah, just the good stuff handpicked by our team to start your day.
Please check the opt-in box to acknowledge that you would like to subscribe.
Thanks for signing up!
Keep an eye on your inbox for the latest sports news.
Sorry!
There was an error processing your subscription.
Paul and James are close friends, but have never played together in the NBA

Now that the order of the NBA Draft is set, it's time to see where everybody is picking

The 24-year-old Schroder is under contract until 2021, but has made it clear he's not happy...
LeBron's decision will have a huge impact on the rest of the league

The Wizards want to create cap space, and they have the 15th pick in the draft as trade bait...

Jaren Jackson is the unicorn 3-and-D prospect of the 2018 draft, but there's wings and guards...