DeMarcus Cousins says Rajon Rondo will re-sign: 'I will kidnap him myself'
Kings center DeMarcus Cousins says point guard Rajon Rondo isn't going anywhere.
• 1 min read
When Rajon Rondo signed a one-year, $9.5 million deal with the Sacramento Kings in the summer, there was risk on both sides. Could Rondo rebound from his disappointing stint with the Dallas Mavericks? Would he get along with head coach George Karl and franchise center DeMarcus Cousins? These were open questions, and there was no guarantee Rondo would be more than a rental. 
Through 19 games, Rondo is averaging 12.9 points, 10.7 assists and 7.1 rebounds as a King. Perhaps more important, he's trying to be Cousins' mentor and the big man wants him sticking around, via Yahoo Sports' Michael Lee.  
"The way we compete and the type of competitors we are, it's hard for us not to get along," Cousins said of Rondo. "We damn near think alike all the time. I'm soaking in all I can. He's a champion. I basically look up to him."

…

"He ain't going nowhere. I will kidnap him myself," Cousins told Yahoo Sports.

Rondo said he'd been wanting to play with the "best big man in the game" for the past three years, so does that mean he's re-signing with the Kings next offseason?

"In the words of K.G., 'Anything is possible,' " Rondo told Yahoo Sports.
A lot can happen between now and July. In Sacramento, it usually does. Still, early signs for Rondo have been encouraging, even if the team doesn't challenge for the playoffs like it wanted to.
Mavericks coach Rick Carlisle recently said Rondo is "a max player next year," which is quite a statement after all that happened between the two of them. That might not be true, but he could end up being pretty pricey, especially considering the rising salary cap. That would mean the Kings would have a big decision on their hands: Do they invest huge, long-term money to Rondo at the age of 30, or do they risk upsetting Cousins by not doing so? That's a tough call, given that Sacramento wants to win as soon as possible but is still a long, long way from being a contender.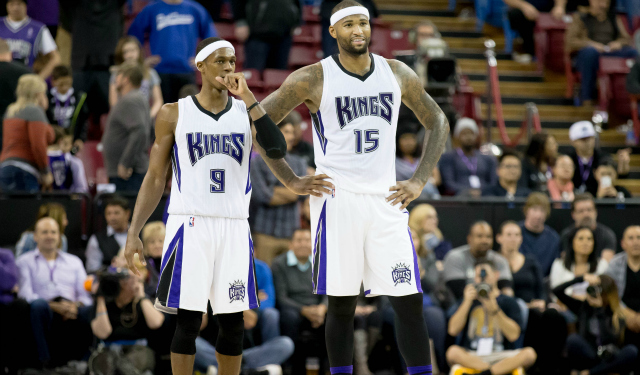 Bryant will have both No. 8 and No. 24 raised to the Staples Center rafters on Monday

The Lakers will be retiring Kobe Bryant's No. 8 and No. 24 jerseys at halftime

The Nuggets will look for their second-straight win with Nikola Jokic back in the lineup
This composition is absolutely amazing

Stephen Curry, who grew up in North Carolina, wants to be part of the next Panthers ownership...

Vince Carter is destined for a Raptors reunion; he doesn't know when it'll happen