DeMarcus Cousins supports changes to starters
Kings center thinks if you're not getting it done you should be benched. Note: He is not included in this.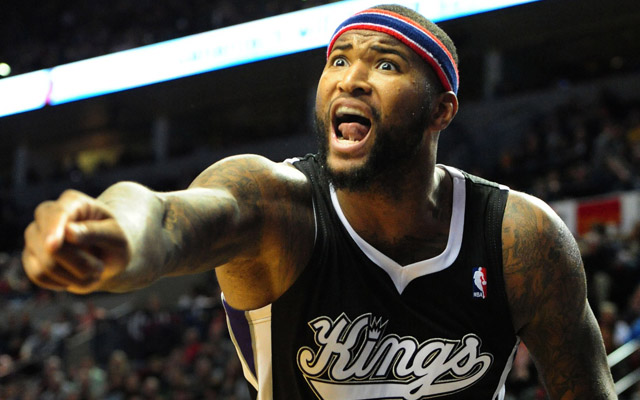 Kings coach Mike Malone is thinking about changing the starting lineup, because it's as close to changing the actual roster as you can get, and that's not an option (yet). Makes sense, considering their starting lineup of Greivis Vasquez, Marcus Thornton, John Salmons, Patrick Patterson and DeMarcus Cousins has been outscored by 23.3 points per 48 minutes this season. 
Of course, that's a coach's decision. Players shouldn't weigh in on that stuff because it seems like a betrayal of your teammates and oh, hi, DeMarcus Cousins, how are you? 
Michael Malone said after last Saturday's game against the Blazers that he plans on changing his lineup. After practice today, the Kings starting center said he agreed with his coach's decision.

"I'm on the same page with him," Cousins said. "It needed to be some changes because some guys were put in position and they didn't step up to it. So, we gonna let the next guy do it."
via Jonathan Santiago's post on Sacramento Kings | Latest updates on Sulia.
"We're gonna let the next guy do it?" He means the team, but that makes it sound like he and Malone got together and went through lineup decisions. And Cousins isn't exactly the guy I want making those calls. Additionally, always good when you're struggling as a starter and a player who's supposed to be the franchise leader calls you out. That has to make you feel good. 
The correct response here is "that's up to coach, but no matter who's on the floor or when, we have to get it done; and that's on me as much as anyone." That's how this goes. This stuff is not hard to figure out, I don't know why players struggle so much with it. The Kings have been 1.1 points per 100 possessions worse with Cousins on the floor and have given up 108 points per 100 possessions on defense. 
Somehow I don't think Cousins is one of the ones being benched. 
LeBron had 29 points, 11 rebounds, and 10 assists in the Cavs' 109-100 win over the Jazz

The montage showed Carmelo's best Knicks moments before playing the Thunder game

KCP can't leave California for 25 days due to the terms of his pleading guilty to a misdemeanor...
Keep it right here for all of the news, notes, scores and highlights from around the leagu...

LeBron tried to keep what he said a secret, but one mic on the court picked it up

SportsLine's Mike McClure, a DFS pro with more than $1M in winnings, gives optimal lineup...