DeMarcus Cousins suspension will be appealed by players' union
DeMarcus Cousins' agent says the NBPA will appeal the two-game suspension for DeMarcus Cousins for his altercation with Spurs broadcaster Sean Elliot.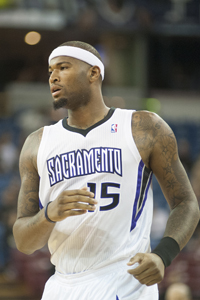 Cousins is fighting his suspension.
(US Presswire)
The Sacramento Bee reports the NBPA, the players' union, will appeal the two-game suspension levied against Sacramento Kings forward DeMarcus Cousins for his altercation with Spurs broadcaster Sean Elliott following the Kings' loss to San Antonio over the weekend. 
According to John Greig, the union is continuing to investigate the matter, but already is convinced the penalty is too severe. Cousins was informed of the two-game penalty and did not play in the Kings-Lakers game Sunday in Staples Center. The immediate goal is to get the suspension lifted prior to tomorrow's home game against the Portland Trail Blazers. Calls to the Players Association were not returned.

"We will definitely have something more to say tomorrow," Greig added late Monday afternoon.
via Kings Blog and Q&A: Players Association appealing Cousins' suspension.
Cousins already served the first game of his suspension Sunday night vs. the Lakers, and is set to sit out Tuesday vs. the Trail Blazers. The Kings and the league have not clarified what actually happened after the game following Elliott's comments about the notably brash Cousins' behavior regarding Tim Duncan, which resulted in a Spurs run and a Duncan swat of the Kings' center.
Of course, that probably would have happened anyway because Duncan is really good, but anyway. 
So the objective for the NBPA is clearly to get the money Cousins lost back, as it always is the more important element. Hard to see the league relenting -- it's taken a stiff line on anything that involves nonplayer personnel at a game since the "Malice at the Palace."
Kevin Durant says he doesn't agree with what President Donald Trump agrees with

Evaluating where the future Hall of Famer might land up if he is freed from Chicago's rebuilding...

Adam Silver said his piece with the schedule out; we address that and what the slate looks...
The Hawks and Sharecare reportedly agreed to terms on a five-year deal

A look at the context of the schedule and who plays who when, and how far they travel during...

Durant took on rapper Lil Dicky and actually might have lost