Dennis Rodman has an invite to return to North Korea, spoke to FBI
After visiting North Korea in February, Dennis Rodman was asked a few questions by the FBI. And he has a return invitation for August if he'd like.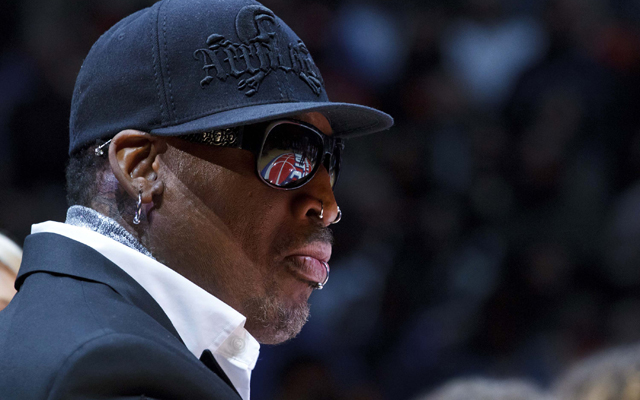 Back in February, Hall of Fame player Dennis Rodman visited North Korea and hung out with North Korean leader Kim Jong-un. They hung out, apparently became friends, and Rodman enjoyed his time with the controversial leader. 
Since that time, Rodman has been asked by many about his decision to go over to North Korea when it's having so many issues with the United States and being accused of mistreating its citizens, as has been widely reported. It's not just reporters asking Rodman about his time with the North Korean dictator; the FBI apparently had some questions for the ex-NBA player. From the Miami Herald: 
Speaking of North Korea, Rodman spoke to us exclusively on his controversial trip there. "I have been contacted by the FBI and I met with them. They wanted to know what went on and who's really in charge in North Korea. I have been invited back to North Korea in August and I want to go. I'm not a total idiot. I know what Kim Jong-un is threatening to do regarding his military muscle. I hope it doesn't happen because America will take whatever actions to protect America and our allies. I do think, umm, you know, that we have to talk to people who want to cause us harm so hopefully they won't. I've been talking to folks for years who don't get what I'm about but that's cool, 'cause once they walk away they like me. I might be able to keep folks' heads cool. We all going to find a way to get along and keep peace. Peace and love is where it is at, Lesley."
This is either a sequel to the great movie that Rodman did with Jean-Claude Van Damme, Double Team, or Dennis is possibly becoming a spy for the United States government. If anybody can broker peace between North Korea and the U.S., it's definitely going to be Dennis Rodman.
You have to wonder if knowledge of Rodman talking to the FBI about his time in North Korea and what knowledge he has of the regime there could end up hurting his chances at cashing in on that second invitation for a return visit in August. He seems pretty confident at maintaining his relationship with Kim Jong-un and trying to figure out a truce of some sort. 
The Cavaliers are ready to reset everything if they have to. Their interest in Lou Williams...

It sounds like the Cavaliers are going to be active before the NBA trade deadline on Feb....

We've got all the scores, highlights and news for Friday night
George Hill, who is unhappy in Sacramento, could be a solution to Cleveland's backcourt si...

Shaquille O'Neal and Sir Charles cruise to an easy victory over some hot peppers

If Charlotte indeed moves its star guard, there's going to be more people impacted than just...