Derek Fisher accepts Knicks' coaching position, deal soon
Derek Fisher has accepted the New York Knicks' coaching position, but a deal is not yet finalized.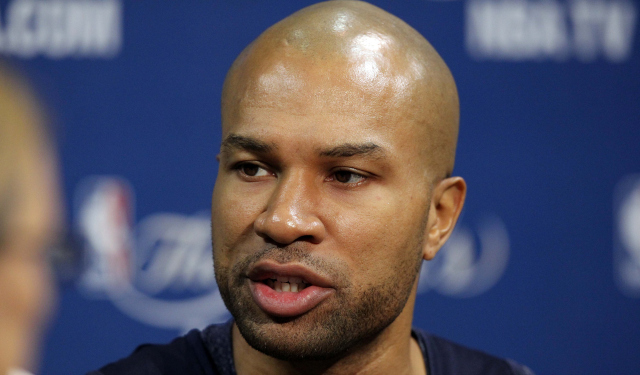 More postseason coverage: Playoff schedule, results | Latest news, notes
The long, winding search down Phil Jackson's rolodex to find the next coach of the New York Knicks looks to finally be over. As first reported by Bleacher Report's Howard Beck and confirmed to CBSSports.com's Ken Berger, Derek Fisher has accepted the position but a deal is not yet finalized. Mike Woodson was previously the Knicks coach, but the team let him go back on April 21 after missing the playoffs this past season.
Adrian Wojnarowski of Yahoo Sports is reporting the deal for Fisher is five years and $25 million.
After being passed over by Steve Kerr to accept the coaching job of the Golden State Warriors following a long courtship period, the Knicks were rumored to be looking at quite a few former players who learned under Jackson's coaching. The Knicks were waiting for Fisher's season with the Oklahoma City Thunder to end before they seriously started pursuing bringing him in for the position. Jackson was looking for a former player of his who accepted the idea of the triangle offense and its basic tenets, and would hopefully be willing to bring it to the Knicks' organization.
Fisher will follow in similar footsteps of Jason Kidd, who finished off his season in 2012-13 with the Knicks before almost immediately taking the coaching job with the Brooklyn Nets. Jackson coached Fisher from 1999-2004 and then 2007-2011. Fisher was the starting point guard for most of the time under Jackson and helped the team win five championships behind the star power of Kobe Bryant and Shaquille O'Neal, along with Pau Gasol, Andrew Bynum, and Lamar Odom later on.
Cuban acknowledged that tanking is 'brutal' and that he will no longer do that after this...

Cho has been the GM in Charlotte since 2011

Fergie: 'I'm a risk taker artistically, but clearly this rendition didn't strike the intended...
Victor Oladipo had a successful R&B album over the offseason and Jamie Foxx is a fan

Klay Thompson makes sure he stands out during All-Star Weekend

There's no shortage of moments to choose from