Derek Fisher as Knicks' coach sets up the new team culture
The New York Knicks are hiring Derek Fisher for big money, but if he's an extension of Phil Jackson's coaching ideals, is it a good move?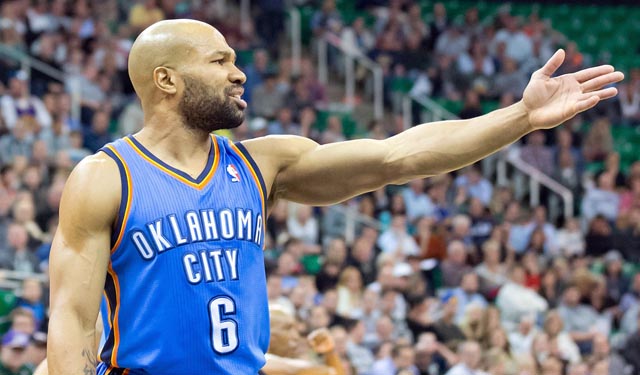 More postseason coverage: Playoff schedule, results | Latest news, notes
Derek Fisher has never coached in the NBA and yet he's set to make $25 million over the next five years as the coach of the New York Knicks. This comes after Steve Kerr didn't take the Knicks job, opting instead to accept the Golden State Warriors' coaching position for the same contract. It's a lot of money to invest in an established coach, let alone someone without any coaching experience.
With Fisher joining forces with Phil Jackson in New York, however, this one feels a little different, much like it would have felt if Kerr had ended up with the job. When Jackson took over the job of remolding the Knicks into a title contending franchise that is more punch than punchline, it was evident he wanted to implement the type of basketball culture that was so successful for him in both Chicago and Los Angeles. Hiring Fisher and then surrounding him with capable, likely experienced assistant coaches should help foster this culture of sharing and team basketball.
Fisher is an extension of Jackson on the sidelines. While it's easy to confuse that with being a puppet for Jackson, in reality it's more likely to be a unified, top-to-bottom basketball culture for an organization that hasn't had anything of the sort. The Knicks, in fact, have been the anti-triangle culture. They've lived off of isolation basketball, and while they don't turn the ball over a lot, they certainly don't rack up assists on a nightly basis. Ball-stopping has been the game, whether it's Carmelo Anthony or J.R. Smith accounting for a hefty chunk of the usage.
Ditching this style in favor of a much more free-flowing, ball-sharing offensive system is likely to breed team chemistry and camaraderie that turns the individual talents of many into the successful culture of one team. Fisher is a strong, respected voice around the league. He's kept himself in playoff rotations that probably could have used a more capable player over the last few years. He's been a leader in the Players Union. He's a guy who has had unwavering confidence in the biggest moments of championship runs.
It doesn't make him a good coach, necessarily. We have no clue if his rotations, in-game adjustments, or day-to-day team preparation will be up to snuff in terms of helping to turn the Knicks back into a legitimate playoff or even championship-contending team. The money is bountiful for a coach who hasn't done the job before on any level, but it's also an organization that doesn't mind throwing money away in the name of opulence. 
Fisher has the résumé and the strength to be a strong leader. He has the support of the head decision-maker, who just happens to have coached two of the most important perimeter players in basketball history, if not the two most important shooting guards we've ever known. Fisher was alongside one of those guards, Kobe Bryant, for all of the Lakers' success, and it's that unified culture cultivation that will be present in trying to convince Anthony to re-sign with the team and buy into the big picture of how this basketball team is supposed to play.
If Melo buys in, then you start shaping the roster around that. It won't be a success right away because they don't have the right players in order to make this engine roar. They have another year of Amar'e Stoudemire and Andrea Bargnani in the mix before they can move on from nearly $34 million of wasted money. They can possibly move Tyson Chandler and Iman Shumpert, clearing the decks for player movement, asset acquisition, and roster flexibility to bring in the right players to put next to Melo in this next contract.
Whatever the case, the days of ball-stopping and chucking are over for the Knicks. The unified front will be paid too much money to be heavily influenced by CAA or whatever group of players tries to transform how the roster will solidify. That is, of course, assuming that James Dolan can keep his fingers off the game plan of what Jackson wants to execute.
This isn't just about next year for the Knicks, although it is important they see growth right away if they keep Anthony on the roster. This is about building in a similar fashion that helped Jackson accumulate all those rings, some with the assistance of New York's newest head coach. 
CBS Sports HQ Daily Newsletter
Get the best highlights and stories - yeah, just the good stuff handpicked by our team to start your day.
Please check the opt-in box to acknowledge that you would like to subscribe.
Thanks for signing up!
Keep an eye on your inbox for the latest sports news.
Sorry!
There was an error processing your subscription.
The Kings have now swooped in on two different players in a week

Here are the top prizes left in the 2018 NBA offseason

All the info on the top names still on the market this offseason
Keep checking back for the latest updates as NBA free agency continues

Michael Beasley offers instant offense and also has familiarity playing with LeBron back in...

Ferrell recently backed out of an agreement with the Mavericks