Derek Fisher: Knicks can build championship team around Carmelo
New York head coach Derek Fisher is campaigning for Carmelo Anthony to stay.
• 2 min read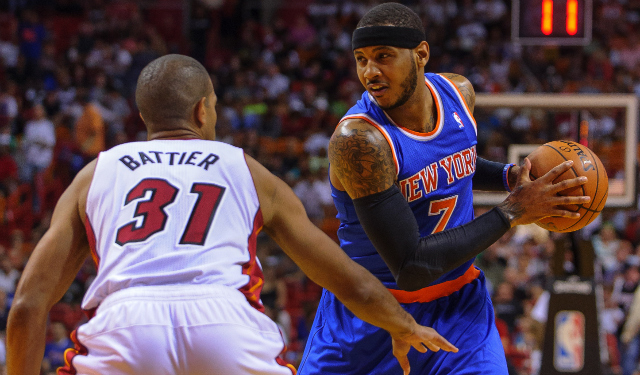 More Offseason Analysis: Coaching changes, news | Free Agency | Draft
New York Knicks head coach Derek Fisher talked up Carmelo Anthony in an interview on ESPN 98.7 FM on Thursday, via ESPN's Ian Begley:
"In my humble opinion, yes," Fisher said on ESPN 98.7 FM's "The Michael Kay Show" when asked if Anthony can succeed in Phil Jackson's triangle offense. "I believe Carmelo can and will thrive in the triangle system. He's actually the prototypical triangle player because of his versatility, we can use him in all five positions on the floor. That's the beauty of the system -- being able to put players around on different spots on the floor. 
Anthony can opt out of the final year of his contract and become a free agent in July. He reportedly intends to do so, despite Knicks president Phil Jackson trying to convince him otherwise. Fisher said that Anthony "can be great, and that's why I believe we can be great right away," adding that the organization has a responsibility to surround him with the right supporting cast and make the game easier for him.
"I want to be extremely clear that I would love to have the opportunity to work [with] and coach Carmelo Anthony," Fisher said. "I want him to be back with the New York Knicks and to remain a part of what we're trying to do here and what we will do. So I don't think anyone has expressed a lukewarm feeling about wanting him back. I think we're all trying to be respectful as people. Carmelo is a great person. He's a family guy and they have decisions that are sometimes independent of what is best for everybody else. So you respect that process. 

"So I would think [team president] Phil [Jackson], Steve Mills, myself, we're trying hard not to turn this into a 'Carmelo please stay' type of process. At the same time, we have no problem expressing that we do want him as part of this team. We feel we can win a championship with him as our core and centerpiece." 
If Anthony hits free agency, as expected, New York can offer him a $129 million maximum contract. Jackson, however, has publicly stated that he hopes the star would take a pay cut for the betterment of the team. Anthony reportedly would consider the Dallas Mavericks, Houston Rockets and Chicago Bulls in free agency, via ESPN's Marc Stein, and the Miami Heat are reportedly trying to make a run at him, though Chris Bosh called such a partnership "very, very unlikely." 
The conversation about whether or not Anthony can fit in the triangle offense and be the focal point of a championship team is sort of missing the point. No one can do it on his own, which is the idea behind the triangle in the first place. Of course he can play in that system, but with other teams chasing him, does he want to? Can the Knicks attract other great players who do? These are the more important questions, and they are very much up in the air. 
An Alabama native, Barkley campaigned for Jones leading up to Tuesday's election

Kerr knew just what to say after Jones pulled off an upset in Alabama

The future of the league was on display on Tuesday night
The Lakers legend details why the NBA popularity will continue to rise

SportsLine's Mike McClure, a DFS pro with more than $1M in winnings, gives optimal lineup...

If the Thunder forward doesn't know the reason, he has a very short memory