Derek Fisher: Too early to determine playing, coaching future
Thunder point guard Derek Fisher has been linked to the Knicks and Lakers coaching jobs, but the 39-year-old hasn't decided what he's going to do next season.
• 2 min read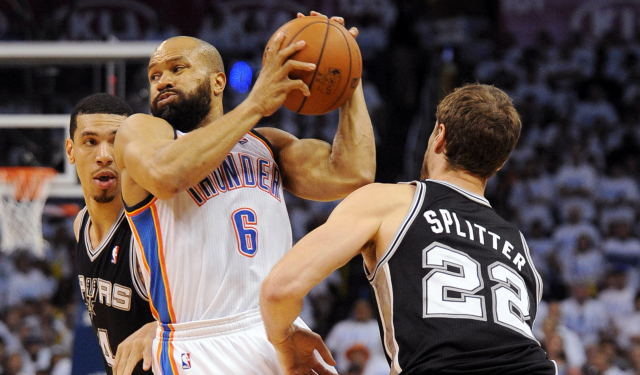 More Offseason Analysis: Coaching changes, news | Free Agency | Draft
Oklahoma City Thunder point guard Derek Fisher might have played his last NBA game on Saturday. He stuck around on the court longer than his teammates, understanding the significance of the situation, via Yahoo Sports' Marc Spears. Afterward, he told reporters he's not going to take long with his decision about the next step, but he will not rush it either, and by Sunday's end-of-season media availability nothing had changed. He has been linked to the vacant New York Knicks and Los Angeles Lakers coaching jobs, which did say was "surreal to think about, for sure," via the Oklahoman's Darnell Mayberry. 
Derek Fisher still undecided on retirement, coaching, any kind of future decision: "Hasn't been that many hours"

— Anthony Slater (@anthonyVslater) June 1, 2014
Fisher says over the last decade or so he's felt like his calling in life was to be in a leadership role.

— Darnell Mayberry (@DarnellMayberry) June 1, 2014
Fisher: "Coaching allows for you to positively impact other people's lives."

— Darnell Mayberry (@DarnellMayberry) June 1, 2014
Fish on coaching Kobe: "I hadn't thought about that much. But when you're brothers, you're brothers, regardless of what capacity it's in."

— Darnell Mayberry (@DarnellMayberry) June 1, 2014
Fisher will be 40 in August, and Thunder head coach Scott Brooks told the New York Daily News a couple of weeks ago that "it would make a lot of sense for Derek to coach in New York." Fisher said Saturday that he hadn't talked to Knicks president Phil Jackson about it yet, while Jackson told reporters on Friday that Fisher was definitely on his short list, via Newsday.
Oklahoma City big man Nick Collison spoke highly of Fisher on Sunday, via Daily Thunder's Royce Young:
"I don't know what Derek wants to do. We'd love to have him back as a player. He's very important to what we do. People don't see what he does behind the scenes, but the guy, he's incredible. He's different than any teammate I've had. The way he can address the team almost like a coach, but guys don't roll their eyes at him. He's one of us at the same time, he has this abilities like nobody else in terms of leadership."
It'll be shocking of the five-time NBA champion isn't a coach at some point. It's more of a matter of when and where. We don't have those answers yet, but we might pretty soon.
The 76ers and Celtics are matching up again after Philadelphia's collapse in London

Kris Dunn somehow took a chunk of the Bulls court out with his teeth, but didn't lose any in...

The fallout from the Rockets-Clippers tussle continues; no Clippers were disciplined
DH12 is picked for free throws after a teammate gets ejected. He makes both, and lets Scott...

Bell was injured defending a Robin Lopez dunk and had to be taken off the floor in a wheel...

Trevor Ariza and Gerald Green are reportedly both suspended two games