Deron Williams (ankle) returning to the Nets Wednesday
Brooklyn Nets point guard Deron Williams will return to action Wednesday night five days after injuring his ankle.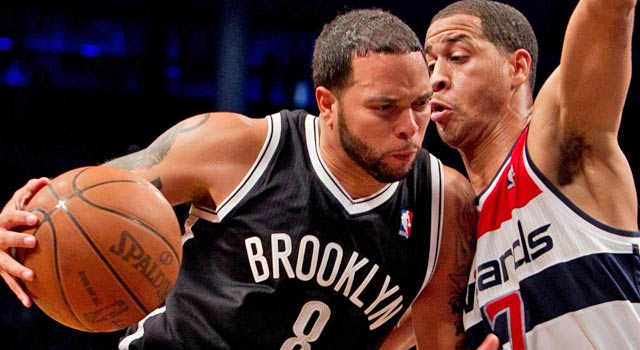 The Brooklyn Nets have had a well-documented rough start to the 2013-14 season. The Nets can't seem to figure out how to get their veterans implemented into whatever system/schemes that Jason Kidd wants to employ. They can't play defense right now and the offense has been pretty inconsistent. Part of that is just trying to get a new group of veterans on the same page together but another part of that is a lack of health the team is experiencing.
That health could be getting better soon. Deron Williams turned his ankle when he came down on Miles Plumlee's foot on Friday during the Nets' 100-98 overtime win over the Suns. After missing two games (both losses) since then, he'll return to action Wednesday night when the Nets take on the Charlotte Bobcats. From Stefan Bondy at the New York Daily News:
The latest savior is arriving tonight for the Nets, and he's a familiar face. Deron Williams will return tonight after a two-game absence because of his sprained ankle.

It's a very quick turnaround after he collapsed on the floor just five days ago, lying face-first in Phoenix after turning his ankle on Miles Plumlee's foot.

Williams is so ready he probably won't have any minutes restrictions Wednesday against the Bobcats, according to coach Jason Kidd.
Williams has battled ankle troubles for a couple of years now and had a lot of trouble with it throughout last season. It got better when he received treatment around the halfway mark of last season but it's been a consistent problem for him for some time. Here is the play from Friday's game in which he injured the ankle.
The Nets need everybody healthy and in the lineup in order to right the ship this season, but getting Williams back on track and running the team the way he's supposed to is probably their biggest goal right now. He's averaging 10.0 points and 6.5 assists in just 25.8 minutes. He's shooting 41.9 percent from the field.
We've got all the scores, highlights and news for Friday night

George Hill, who is unhappy in Sacramento, could be a solution to Cleveland's backcourt si...

Shaquille O'Neal and Sir Charles cruise to an easy victory over some hot peppers
If Charlotte indeed moves its star guard, there's going to be more people impacted than just...

Trading Kemba Walker (and dumping salary in the process) may be harder than expected for C...

Our advanced computer model simulated Friday's Jazz-Knicks game 10,000 times