Deron Williams doesn't know when he'll be back
Nets star point guard continues to miss time with ankle injury.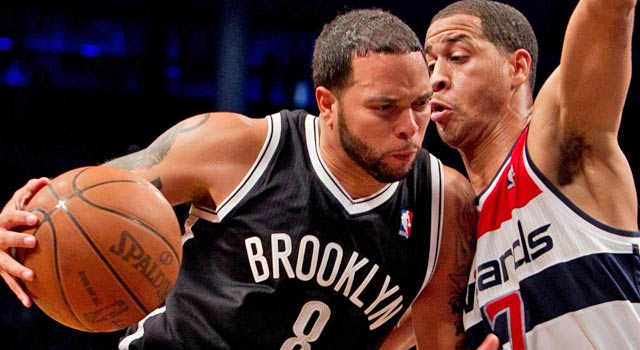 Deron Williams still hasn't played in preseason after injuring his ankle days before training camp opened. And when exactly will he be back? The Booklyn Nets' point guard doesn't know. 
"I appreciate your concern for my health. I really do. Thank you for that,'' Williams said while pedaling on a stationary bike, before playing in a Globetrotter-esque 5-on-0 portion of open practice at Barclays Center. He admitted full-contact is the next step for him, but he had no answers when that will come.

"I would definitely think you'd need to scrimmage before you go out and play an NBA game. I would think. I don't know, I'm not sure. I would think you'd have to do that, so when that happens I'll let you guys know. … Listen I think you guys should go talk to [trainer] Timmy Walsh and [team Dr.] Riley Williams, because they can answer the questions better than I could.''

Williams suffered a sprained right ankle and bone bruise during an offseason workout in Utah, but at the time the Nets announced he would be ready by the start of training camp. But he has been limited to non-contact work since.

"It's frustrating having to sit out, frustrating having to watch them play," Williams said. "Practice has been fun to watch, but also frustrating to watch because I can't be out there.
via Nets star Deron has no idea on return | New York Post.
Williams has done more in recent days, but coach Jason Kidd has also said he may miss the season opener. Williams maintains he'll be ready for the season opener, but he also thought he would play in preseason and be ready for camp. This is the same injured ankle that limited him last year, requiring plasma-replacement platelet therapy last season. Without Williams, the Nets are looking at a tough start, even with the amount of talen they have on roster. 
Paul Pierce is on record saying Williams should sit out as long as necessary. 
Why come back when you're only 75, 80 percent? Then you come back and you go back down to 50 percent," Pierce said. "We'd rather see a guy take all the rest that he needs and get to 100 percent so he's ready to go."
via Deron Williams ramps up workload; return date unclear | New York Post.
HT: PBT
Kevin Durant says he doesn't agree with what President Donald Trump agrees with

Evaluating where the future Hall of Famer might land up if he is freed from Chicago's rebuilding...

Adam Silver said his piece with the schedule out; we address that and what the slate looks...
The Hawks and Sharecare reportedly agreed to terms on a five-year deal

A look at the context of the schedule and who plays who when, and how far they travel during...

Durant took on rapper Lil Dicky and actually might have lost