Deron Williams: I've talked with Dwight Howard about teaming up 'for years'
Brooklyn Nets point guard Deron Williams says he's talked with Orlando Magic center Dwight Howard about playing together since the 2008 Olympics.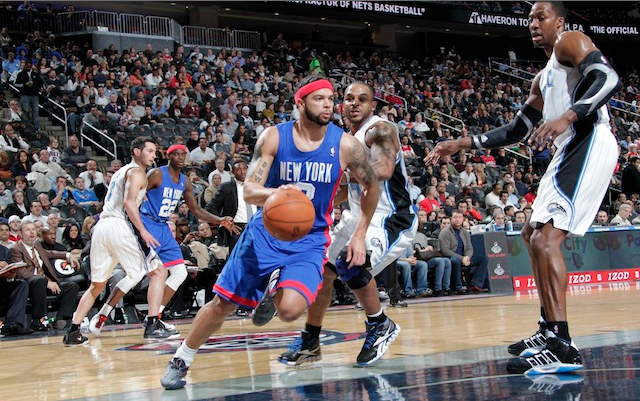 Deron Williams says he and Dwight Howard have been talking about playing together "for years." (Getty Images)
LAS VEGAS -- Is a well-laid plan about to come to fruition?
With rumors of a multi-team trade that would land Dwight Howard on the Nets, Brooklyn's franchise point guard Deron Williams told reporters at USA Basketball's training camp Monday that pairing with the Orlando Magic center had been a topic of discussion since the 2008 Beijing Olympics.
"We've talked about playing together for years," Williams said, calling the opportunity to team up "a big part" of why Howard has requested that he be traded to Brooklyn.
Although Williams initially tried to play dumb regarding the rumors, he wound up speaking fairly openly about Howard's unhappiness and desire to relocate.
"Any time a player like that is unhappy and wants out, it's going to be a big story," Williams said. "The reason why you guys all came and talked to me today, when none of you talked to me yesterday."
Williams, who agreed on a 5-year, $98 million contract to re-sign with the Nets last week, said that he hadn't spoken to Howard directly in "a couple of weeks" but he said the two were "friends" and he allowed himself to think out loud about what a pairing with "one of the top-five players in the world" would mean for Brooklyn's chances.
"Whatever happens, happens," he said. "I think we'll have a good team without him. I think we'll have an even better team with him."
The Nets have made a series of moves that figure to put a much better product on the court next season. They agreed to trade for Atlanta Hawks All-Star guard Joe Johnson, and they agreed to re-sign forward Gerald Wallace to a 4-year, $40 million contract.
"It's the way you've got to go now, to compete with Miami," Williams said, of stars loading up on the same team. 
Howard, 26, is the NBA's premier center. He's made noise about leaving Orlando since before the 2011-12 season. Williams, too, has been dealing with free agency rumors since he was traded by the Utah Jazz to the Nets in advance of the 2011 trade deadline.
"I know how tough it's been on him," Williams said. "You want to see it end one way or another so he can be happy."
The move from New Jersey to Brooklyn was a major factor in Williams' decision to re-sign, he said Friday, and he believes the lure of New York City is playing a role in Howard's planning too.
"I think he likes the market, this market is a lot different than Orlando," Williams said. "I think [building something new in Brooklyn] definitely intrigues him. It's going to be huge."
We've got all the scores, top plays and news from a busy NBA Friday

Butler didn't put any pressure on his right leg as he was helped to the locker room on Fri...

Our advanced computer model simulated Saturday's Magic vs. 76ers game 10,000 times
Several playoff contenders could use the services of Ilyasova, who's nearing a buyout agre...

Durant says he probably wouldn't have gone to college because he 'needed the money'

Ball, who has missed the last 15 games with a sprained MCL, will be on a minutes restricti...