Deron Williams, Jerry Sloan share mutual interest in reunion
Deron Williams says he would 'love' to play for Jerry Sloan again, and the former Jazz coach says he's open to the idea as well.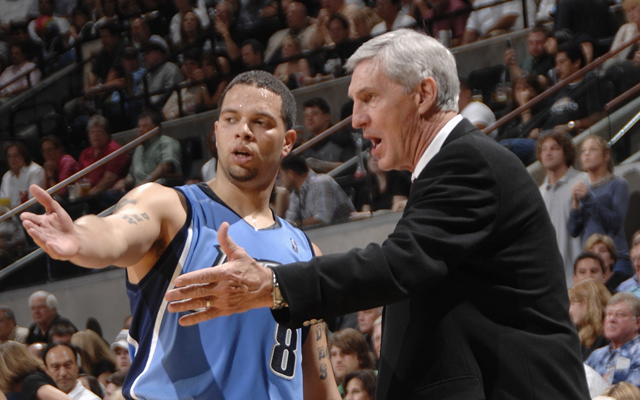 You might remember the last time Jerry Sloan coached in the NBA. It was in Utah, where he had coached for 23 seasons with the Jazz. There was a lot of talk and reports later about his inability to get along with then-star point guard Deron Williams. Now that Williams has chewed through two coaches in a single season -- and after the Nets lacked any ambition or toughness in a first-round exit at the hands of the Bulls, apparently Williams is missing the good times. 
Williams said in his exit interview that he would be open to having Sloan as a coach again. And as the New York Daily News reports, the feeling's apparently mutual:
"I would listen," Sloan told Comcast Sports Net Northwest. "I haven't done the research on their roster, but I would definitely listen if they called."

A day earlier, Williams -- whose rocky relationship with Sloan was reportedly a factor in the Hall of Fame coach quitting the Jazz midway through the 2010-11 season -- endorsed his former coach.

After P.J. Carlesimo is fired Sunday, Deron Williams says the team needs a tough coach and endorses Jerry Sloan as a good fit for the Nets.

"I'd love to play for Coach Sloan again," he said.
via Jerry Sloan open to coaching Deron Williams and Nets  -- NY Daily News.
Sloan's been hanging out, farming for two years, though he has been in talks for various jobs. Imagining Sloan in Brooklyn is an odd idea to wrap the brain around, but he is just what the Nets are looking for. He's a fiery coach who would coach the pick and roll and could bring out a lot from the roster. He's a veteran who has won a ton of games, so that carries weight in the locker room, and it's not like most players are going to get back in his face. 
Williams said he wants a coach who can put a fire under guys, and that's Sloan. But it'll be up to Williams to set the tone for the team if they bring in Sloan. He has to show that he wants to do what Sloan says, and that means whatever Sloan says. The leadership structure won't work otherwise. Is Williams willing to do that? 
It's a question that could guide whether this is lip service or a legitimate pursuit by the Nets. 
Wade, as he's done so many times in his career, threw it up to LeBron for the thunderous f...

The Warriors coach added there should be no shame in being picked last since everyone's an...

We've got all the scores, highlights and news from all of Saturday's games
The two teams have reportedly not had any substantial discussions to this point

Oladipo may be getting most of the shine, but this second-year big man has been phenomenal...

SportsLine's Mike McClure, a DFS pro with more than $1M in winnings, gives optimal lineup...