Deron Williams officially re-signs for five-years, $98 million with Nets on an iPad
Deron Williams officially re-signs with the Brooklyn Nets for five-years and a reported $98 million.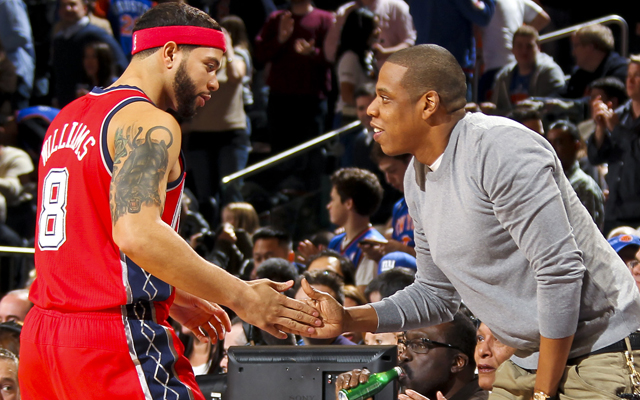 Deron Williams found his heart, and his money, were in Brooklyn.
(Getty Images)
The Nets have their man. After making a massive gamble on trading out of the blue for elite point guard Deron Williams and spending a year convincing him to re-sign when the Nets moved to Brooklyn with promises of moving past the 22-win team the Nets have been, they have locked in their guy or the future. Williams officially signed a reported five-year, $98 million contract with the Brooklyn Nets shortly after midnight on the opening night of the NBA free agency signing period Wednesday morning according to Ken Berger of CBSSports.com. Williams sent a tweet with an image of him signing his deal on an iPad shortly thereafter. 
Berger reports that Williams has an opt-out after the fourth year should the great Prokhorov experiment go wrong. 
Williams joins Joe Johnson and Gerald Wallace in Brooklyn, and may be joined by Dwight Howard depending on how the seemingly inevitable trade of Howard shakes out. Williams opted for the Nets over his hometown Dallas Mavericks, based largely he said, on the Nets' acquisition of Joe Johnson. 
Under the new CBA, the Nets are the only team eligible to offer Williams the fifth year with the max raise structure. 
For more analysis on Deron Williams re-signing with the Brooklyn Nets: 
The story as it unfolded, straight from Williams' Twitter account. 
Williams says he's talked about teaming up with Dwight Howard for years. 
Ken Berger's analysis when the agreement was made. Just how good can the Nets be with DWill at the helm?
Williams told reporters that the Nets' acquisition of Joe Johnson swayed him. Ben Golliver breaks down Williams' comments from Team USA practice. 
A look at where the Mavericks go from here by Royce Young. 
EOB Roundtable: What does this mean for Brooklyn and Dallas? How good is the new triple-threat in Brooklyn (without Howard)?
Multiple players said the meeting did not go well

The Cavaliers, you might have heard, are slipping

Here's how to watch Jimmy Butler and the Wolves take on Blake Griffin and the Clippers
James Harden, Chris Paul take on one of the hottest teams in the Eastern Conference

We've got all the scores, highlights and news from all of Sunday's games

The Rockets beat the Warriors 116-108 on Saturday night