Derrick Rose acknowledges tension with Bulls, says it's a 'new beginning'
Chicago Bulls guard Derrick Rose talked for the first time on Thursday about problems between his camp and his team.
• 3 min read
Offseason: Free Agency | Latest from Ken Berger | Rumors
Update: Bulls owner Jerry Reinsdorf has issued a statement about the Chicago Sun-Times story:
"I am confounded by the irresponsible report in the Chicago Sun-Times suggesting there is anything approaching discord or confusion between the Bulls executive office, coaching staff, and Derrick Rose or any other Bulls player. To the contrary, I can remember no time when the organization has been any more focused, optimistic, and cohesive. I've got to assume suggestions otherwise are intended to undermine the goals and objectives, spirit, and reputation of the Chicago Bulls. I am deeply disappointed that unnamed sources and totally inaccurate statements and assumptions can be used to foment nonexistent friction. The report is totally without basis or fact. It is pure malicious fiction."
So, Reinsdorf didn't like the article.
---
At Team USA's training camp in Las Vegas, Chicago Bulls star guard Derrick Rose acknowledged on Thursday for the first time that there had at times been discontent between his team and his camp, via the Chicago Sun-Times' Joe Cowley:
"I know it's been there,'' Rose told the Sun-Times, acknowledging there has been growing tension between the organization and the Rose camp. "I heard there were some upset people.

"I'm happy I didn't personally see it. I don't want to see that. I kind of wonder where it was coming from because it seemed like whenever I was around, everything was all right. It bothered me because when I wasn't around, I would hear from certain people that everything wasn't all right.''

That's because things often weren't all right.

Multiple sources in the organization say tension was mounting because Rose allowed his own camp to take shots at the franchise. Gradually, there seemed to be less communication between the Bulls and their biggest star. And tensions hit a peak when Rose, who has a five-year, $94.8 million contract, seemed to blatantly resist helping build the roster in a new NBA where stars increasingly double as recruiters.
The Sun-Times quotes sources saying that Rose wanted nothing to do with recruiting Carmelo Anthony, and that the front office was irate about him skipping the team's dinner with the star forward at the beginning of the month. Rose then reportedly was "much more aggressive" in selling Pau Gasol on coming to Chicago.
You might also recall Rose's brother, Reggie, ripping the Bulls at the 2013 trade deadline. There's also the small matter that his agent, former Bulls guard and then assistant GM B.J. Armstrong, was demoted after John Paxson came aboard in 2003 and had a reported falling out with the team in 2005.
Rose, though, said that the problems were in the past:
"It seems like everybody has one goal, from the front office all the way down now,'' Rose said. "It seems like everyone is finally communicating with each other. That's all we need. You think about all the championship teams, they say that communication and one goal is usually the recipe. You take away all the other [stuff] and just make it simple.

"This is a new beginning for everybody. We've got a new practice facility, a new year where I'm coming back, and we have some great talent. It's time to turn the page and move in a positive direction.''
To be clear, Rose's biggest perceived offenses have really had to do with the people close to him, not himself. It's not as if he's ever criticized the organization. He has just not wanted to participate much in recruiting stars, which is his choice. Rose has always been a leader on the court, and he's saying he's now genuinely on the same page as the franchise. Regardless of the fact the Bulls missed on Anthony, they've had a great offseason, and with Rose looking healthy and confident at camp, things are looking up.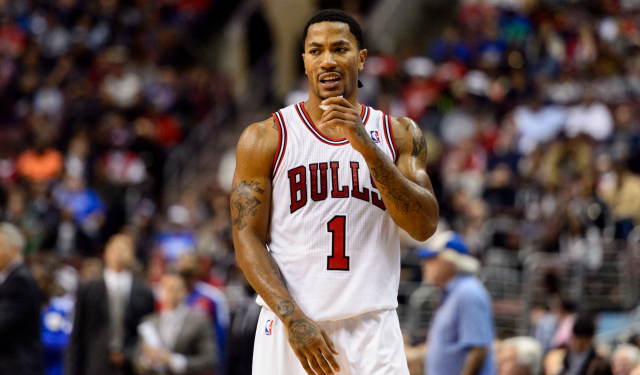 We've got all the scores, highlights and news from all of Sunday's games

The Rockets beat the Warriors 116-108 on Saturday night

The Cavaliers gave up 148 points in their loss Saturday afternoon to the Thunder
Blatt made the comment before coaching in the All-Star Game in Turkey

Is this rock bottom for the Cavaliers because it sure feels like it is

Wade, as he's done so many times in his career, threw it up to LeBron for the thunderous f...