Derrick Rose has double vision, still wants to play in a preseason game
Why even risk it if you're Derrick Rose and it's preseason?
Soon after making some potentially tone deaf comments regarding his 2017 free agency on Media Day, an inadvertent elbow in practice left Chicago Bulls star Derrick Rose with an orbital fracture that required surgery. It sounded like Derrick Rose wasn't going to play in the preseason because he needed time to heal and there wasn't any incentive to risk further injury in games that don't matter.
Reporters were able to check in on Rose's status Thursday and the bad news is that the point guard is seeing double vision. In fact, K.C. Johnson of the Chicago Tribune tweeted a quote from Rose saying he was seeing two of people at that moment when he was asked of double vision.
Rose, on if he still has double vision at times: "I'm seeing two of you right now."

— K.C. Johnson (@KCJHoop) October 22, 2015
That's unfortunate for Rose because that must be tough to try to practice, go through drills and work out when you're battling double vision. The Bulls have just one more preseason game Friday night when they face the Dallas Mavericks in Nebraska.
There's no way he'd try to play through that in a game, let alone in a preseason game that doesn't matter, right? Well...
Rose sounds like he'd play Friday even if he has double vision.

— K.C. Johnson (@KCJHoop) October 22, 2015
Rose is in a tough spot here. He constantly has his toughness questioned because he's battled so many injuries. During the 2014 playoffs, he was sitting out with his knee injury recovery while we watched Joakim Noah battle through a foot injury. People questioned then if Rose should be out there when injured teammates were giving all they had in postseason games.
The problem with this is it could put more pressure on Rose to play when he's not quite ready to do so, and that could lead to further injury for him. Then he starts missing even more time on the court in a career that is far more dampened now than it was four years ago when he was the league's MVP. Being able to battle that pressure is as much a part of Rose's career now as battling the opponents on the court.
So what is he to do? He probably wants to work off some rust and see what he can do in a game that doesn't matter, but you probably don't want him getting hurt worse in a game that yields no reward and nothing but risk. Playing with double vision just sounds like a really bad idea, even if it's for 10-15 minutes in an exhibition game.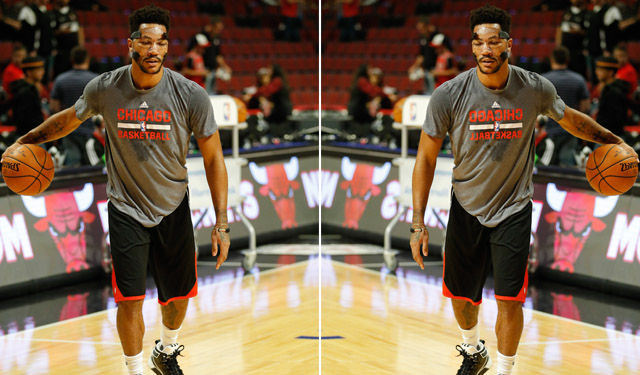 The investigation detailed a hostile workplace environment

Cousins suffered a torn Achilles tendon on Jan. 26, and will miss the rest of the season

Ingram has become one of the team's go-to players with Lonzo Ball sidelined with an injury
Giannis skipped EuroBasket last summer, and has missed four games this season with knee so...

Some of the best and worst from the league as we head into the home stretch of the season

Cuban acknowledged that tanking is 'brutal' and that he will no longer do that after this...