Derrick Rose hits the gym for the first time as return from ACL begins
Adidas launches promotional tour for the return of Derrick Rose from injury, as Rose talks to Chicago media about his process.
It started, innocuously, with this: 
Feels good to be back in the gym... twitter.com/drose/status/2…

— Derrick Rose (@drose) August 15, 2012


and this photo on Twitter: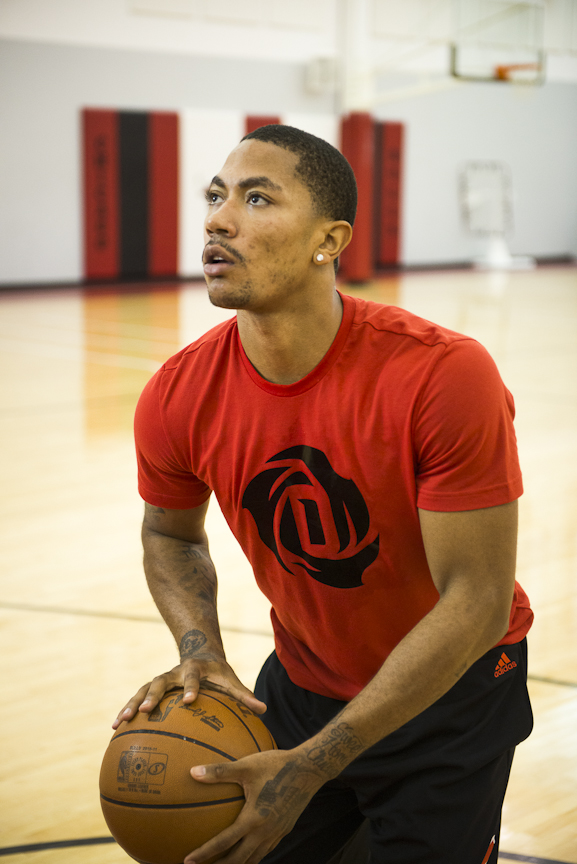 And with that, the Derrick Rose rehab promotional tour began. Sponsored by Adidas. 
Rose's shoe company released the above video and the same day, CSN Chicago unveiled the first in a multi-part series of an in-depth interview with the 2011 MVP, in which Rose talked about what experiencing the ACL tear that ended his season was like ("The closest to death I've got to right there"). 
He also talked about what the plan is and where he's at. 
"It's definitely different, starting from the beginning all over again, but I look at it as a blessing. It could be worse. This injury could have stopped me from playing basketball. Thank God I'm still walking, thank God I made it back as soon as possible," Rose said. "My spirits have been up, being around my guys, working out. It makes me feel good, makes me feel like I'm doing something. I haven't been doing anything but therapy every day, so it feels like I've been back in school. It's definitely been hard.

"Here, in L.A., I have to get there at 11, stretch a little bit, let them work on my scar tissue a little bit, then get on the bike, roll out on the bike a little bit. By the time my workout ends, it's close to an hour, hour and a half [later].

"[Rose rides a stationary] bike, a whole bunch of just basic moves with bands around my knees, try to get my quads working, try to get my hamstrings together. It's been so much, man. I think all my other injuries have healed, so that's a good thing. I'm just worried about my knee right now," he continued. "My lower body is huge. On Tuesdays and Thursdays, I lift lower and upper, so those days are kind of hard. It fatigues me a little bit, but everything else is good."
via Rose opens up about devastating ACL injury.
Rose is on track to return, but a firm timeline won't be known until at least the end of the year. Even then, it'll likely be a slow process from questionable to maybe to yes. And there's a lot of talk that that won't be until March, which many feel would effectively end the Bulls season. I'm not one of those people, because that team thrived well enough without Rose last year. Their defense at the least will keep them in the playoff hunt and within range of homecourt, and Rose's return could spark them... depending on how he returns. 
So get ready for the advertisements, as a young man's efforts to recover from a devastating injury are turned into an effort to sell shoes. But for Chicago fans, none of that matters. Rose is out of the dark, and that means somewhere in the future, he'll really, truly, be back. 
Thomas took to Twitter to let the Celtics know he doesn't want to ruin Pierce's night

The Hall of Famer was a seven-time All-Star with the Celtics, and was MVP of the 1976 Fina...

It's rare to see a legit punch in an NBA fight, but this was definitely one of them
We've got all the scores, highlights and news from an NBA Tuesday

The former Slam Dunk Contest champion will take his talents to Tri-State

Do NBA players have look-a-likes from famous paintings? We found out on the new Arts & Culture...