Derrick Rose misses practice, could miss Friday vs. Toronto
Bulls star still dealing with hamstring injury sustained vs. Cavaliers, says if it's up to him, he'll play.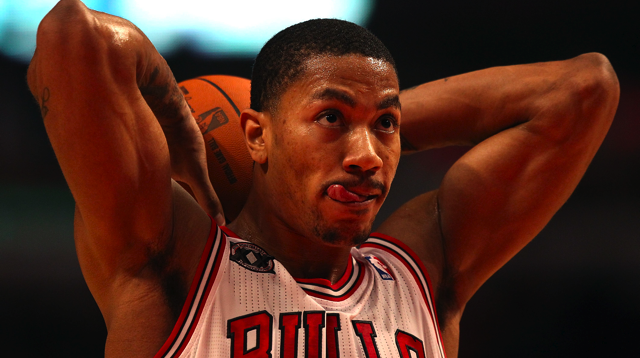 Derrick Rose missed practice Thursday but says if the decision is his, he'll playon Friday vs. Toronto. The Bulls have their first back-to-back of the season Saturday against Charlotte. Rose injured his hamstring Tuesday in a win over the Cavaliers. 
"There's a chance," he said. "Right now I'm feeling all right, just trying to rest, do a little treatment. But more than likely I'll be out there playing."

Rose, who missed a game in the preseason because of knee soreness and has dealt with neck stiffness already this year, said he expected to have a few nagging injuries after missing a year and a half while recovering from knee surgery, but he says he is feeling much better in the last couple of days.

"It's not a concern at all," Rose said. "I think everything I do or if I get hurt, it can be anything, it's going to be blown out of proportion. I'm doing fine and it shouldn't be anything to worry about."
via Derrick Rose of Chicago Bulls misses practice with sore hamstring - ESPN Chicago.
Rose missed the fourth quarter of the game with the Cavaliers, but he also wasn't needed. Rose hasn't looked like himself this year since returning from ACL surgery, shooting 33 percent with a PER of 6.6. Not 16.6. 
6.6
For comparison, when he won the MVP in 2011, he had a PER of 23.5. He's looked slow, lacked spatial recognition of closing gaps by defenses, shot poorly, finished poorly, and been turnover prone. There's some rust there. Taking it easy for Friday might not be the worst idea in the world for him. 
Rap mogul supports the vision the outspoken father has for his brand and sons

Deciding who to watch on League Pass can be difficult, but these rankings promise to help

Veteran forward signed a one-year deal with the Knicks in offseason
Knicks forward had his truck stolen out of his driveway

The Celtics will send No. 34 to the rafters in Boston when they take on his old rival

It's never too early to look at June's NBA Draft