Derrick Rose not under hard minutes restriction
Bulls PG won't be under a hard minutes restriction this season, but coach Tom Thibodeau will still exercise caution with the former MVP.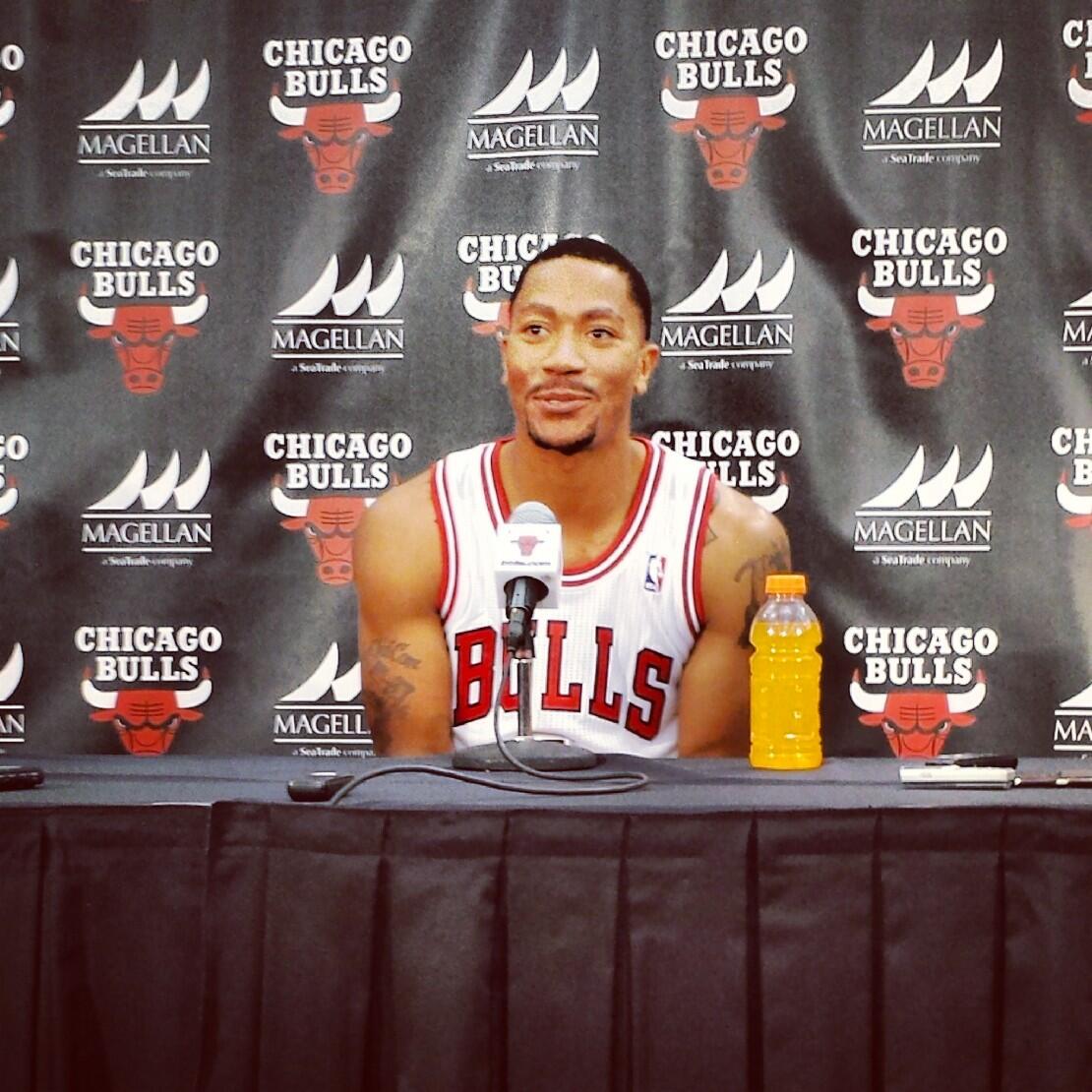 At Media Day on Friday, Bulls executive Gar Forman told reporters that there will be no hard minutes restriction on point guard Derrick Rose. Rose is in agreement on the subject, but coach Tom Thibodeau is planning on using caution regardless. 
Tom Thibodeau on DRose: "He's made it clear to me that he doesn't want big restrictions. But as I told him, we'll have to wait and see."

— K.C. Johnson (@KCJHoop) September 27, 2013
Forman also said that they anticipate Rose playing in each of the Bulls' preseason games, which will be his first in 18 months after tearing his ACL against the Philadelphia 76ers in the first round of the playoffs in 2012. Rose missed all of last season despite being cleared by doctors to resume basketball activities in February. 
Thibodeau notoriously overplays his starters, even in blowouts, so it's kind of ironic that he's the voice of caution about the most high-profile injury in Chicago history. Watching how many minutes he actually plays both in preseason and when the regular season begins will be a storyline in and of itself. 
Rose reiterated what he said at an Adidas event earlier in the week, that he plans on returning better than before, citing an improved range and that he's feeling "healthy." It's trite, but it's also exactly what you want to hear from Rose after the drama of his non-return last year. The injury wasn't just physically severe. It was emotionaly and physically traumatic for Rose, as evidenced by the fact he has watched video of it 30 times. So 
Durant helped build the court in Manhattan as part of his community outreach program

Prince will be a special assistant to Memphis GM Chris Wallace

He speaks out at a LeBron James Family Foundation event; he tweeted about Charlottesville on...
Smith was at the event to support his Cavaliers teammate

Trade talks involving Irving have seemingly stalled in recent weeks

The three stars were joined by a number of other NBA players