Derrick Rose plays in back-to-back games, trying to put fear behind him
Bulls star just wants to get through questions and concerns and get back to playing ball, as he plays in back-to-back games for the first time in months.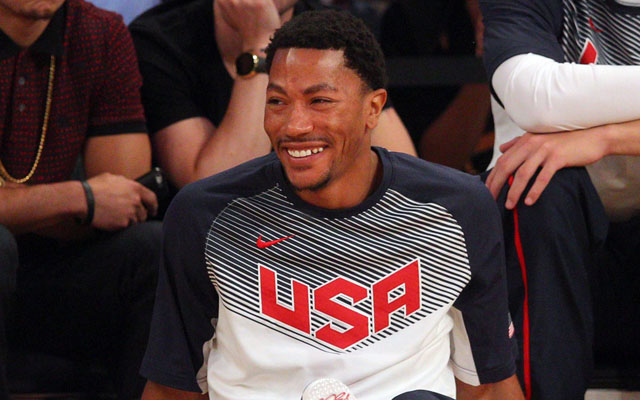 Chicago Bulls star and Team USA guard Derrick Rose said this week that he's just trying to move past the "trepidation" and concern about his knees reacting to sustained basketball at a full-speed, full-contact level in his first real competitive environment since having another knee surgery last year. 
Yet it also must be said that Rose has seemed more at ease since the squad left the United States for Europe. He's facing all the questions about his knees from nosy reporters head-on, even after Team USA coach Mike Krzyzewski told ESPN.com last week that he sensed "a part of [Rose] that's like, 'Quit asking me how I feel, I'm good.'"

"I'm just trying to put that behind me," Rose said of any trepidation he's feeling as he ramps up his comeback from the two devastating injuries that limited him to 10 games over the past two seasons with the Bulls.

"I know the questions are going to come and they're going to be there the whole year. So I can't get tired of it. I'm feeling good right now.

"Just trying to get in better shape, get in better condition, so that when I do need to score the ball, then it'll be there."
via Rose 'feeling good' after FIBA back-to-back - Marc Stein Blog - ESPN.
Rose took several days to recover from one of the exhibitions last month before FIBA play started, but then played in Team USA's back-to-back game vs. Turkey on Sunday. Being able to play in what is really a ridiculous number of games inside of a week will be a big test for Rose, even if his minutes will be even more closely watched and restricticted than the rest of the team. 
This will make the transition easy for Rose when it comes to training camp and preseason, and then the regular season. Getting through the grind of those January and February games will be a much diffrent challenge. The worst part of it is that the Bulls' medical and coaching staff will closely monitor Rose, will give him rest if he shows any signs of stiffness or fatigue, and there's still no way to be sure he won't suffer another injury. He just has to get through it. He knows that, and as time goes oh, he'll have to be aware of it less and less, just as the questions will be more and more annoying. 
Our advanced computer model simulated Saturday's Thunder-Cavs game 10,000 times

The Jazz are reportedly looking into trading Rodney Hood before the Feb. 8 NBA Trade Deadl...

The Cavaliers appear ready to reset everything if necessary
It sounds like the Cavaliers are going to be active before the NBA trade deadline on Feb....

We've got all the scores, highlights and news for Friday night

George Hill, who is unhappy in Sacramento, could be a solution to Cleveland's backcourt si...