Derrick Rose says that his injury forced him to be 'selfish' last year
Derrick Rose says he had to be 'selfish' with his decision to not play this year and continue his rehab of a torn ACL.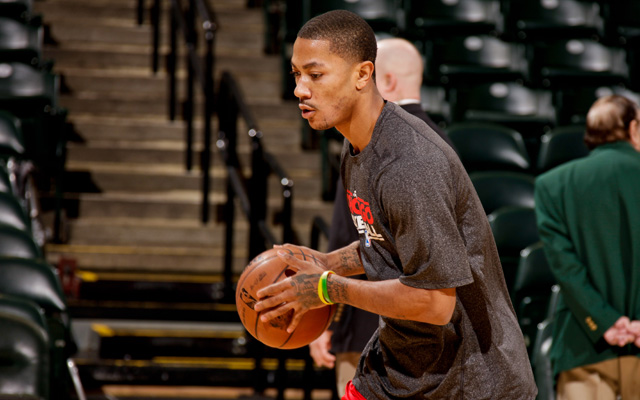 In an interview posted on Bulls.com Wednesday, Bulls point guard Derrick Rose said that his ACL injury which held him out more than a year, forcing him to miss the entire season and the team's playoff run, forced him to be "selfish." 
"I'm not a selfish guy at all, but having this injury and going through what I had to go through and being smart, it's something that I had to be selfish with," he said. "I couldn't worry about anyone else but myself and my health."
Rose took a lot of flak for holding out the year, especially after doctors cleared him early spring to return. Rose practiced five-on-five for months, but never actually made it onto the active list. It sparked questions of whether he should go through the pain and fear, especially with the Bulls advancing to the second round despite a myriad of injuries to nearly all their key players. 
But Rose stuck with his process and decided he wasn't ready. He wasn't going to be pushed into it by fans or media, and now he's got an extra six months to get ready. Come October, though, if he's not ready by then, the maelstrom will be even louder. As for why Rose was able to practice, but not play, Rose explained: 
"When you're in practice, it's not in game-type speed. Game-type experience is totally different."
Rose talked about the strong bond with his teammates and how he felt they were almost "playing for him" in the playoffs when they upset the Nets and gave the Heat a decent fight in a five-game series. 
Now it's Rose's turn to play for them. It's going to take a little longer to see Rose on the court, but he's doing interviews now. He's working out harder than ever. And the world is still waiting. 
Kevin Durant says he doesn't agree with what President Donald Trump agrees with

Evaluating where the future Hall of Famer might land up if he is freed from Chicago's rebuilding...

Adam Silver said his piece with the schedule out; we address that and what the slate looks...
The Hawks and Sharecare reportedly agreed to terms on a five-year deal

A look at the context of the schedule and who plays who when, and how far they travel during...

Durant took on rapper Lil Dicky and actually might have lost