Derrick Rose speaks, says he doesn't know if he'll return this season
The longer the world waits for the return of Derrick Rose, the more tense the situation gets.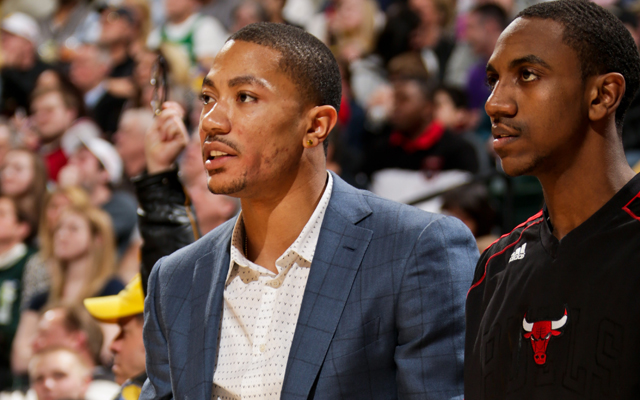 The longer the world waits for the return of Derrick Rose, the more tense the situation gets.
It's been almost a full year since Rose went down with an ACL injury in the opening round of the playoffs, and according to his timetable, he should be back and playing by now.
Rose has been practicing 5-on-5 for a couple of weeks and is reportedly "cleared" to play, but he has evidently had other issues that have gotten in the way, including sore hamstrings, another possibly being his mental state.
Rose spoke with Chicago beat reporters Tuesday to try to set some of the record straight about where he's at and when he'll return. Quotes via the Chicago Tribune:
"I'm waiting to that day where I feel normal," Rose said. "Until then, I will just wait. I haven't had any pressure from the organization."
To go with the stuff about Rose not being mentally ready, he sort of gave a window into that.
"I think I can do everything," he said. "It's just me having the confidence to do it ... When I'm out there not thinking and just reacting, that's how I know I'll be ready."
Which is obviously true for a player like him who uses hard jumpstops, cuts and lateral moves as a big part of his game. It can be hard to have the confidence to plant on that knee when in the back of your head you know what you just went through.
On his hamstrings:
"They're just waking up. They're getting a lot stronger but they're coming along I'm moving in the right direction."
Some have been critical of Rose for not getting back on the floor to help his team, which is struggling as the playoffs approach. But Rose, wisely I might add, understands this is a long view situation.
"If I rush back and something was to happen, everybody would say why did you rush back?" he said.
As for his brother and manager Reggie's comments that ripped the Bulls for their lack of trade deadline movement, Rose waved it off.
"My brother is my brother. I'm going to have his back no matter what. He just had to get it off his chest."
Rose said there's no issue with the organization.
"Everybody assumes everything," Rose said. "I'm the last person that someone will have a confrontation with."
As for when he'll be back, Rose is still without a timetable. The only one that exists is his own. He'll come back when he's ready. Which means he's fully prepared to sit the season.
"I'm just coming back when I feel normal," he said. "If that's in a couple days, that's great. If it's not, I'm fine."
CBS Sports HQ Daily Newsletter
Get the best highlights and stories - yeah, just the good stuff handpicked by our team to start your day.
Please check the opt-in box to acknowledge that you would like to subscribe.
Thanks for signing up!
Keep an eye on your inbox for the latest sports news.
Sorry!
There was an error processing your subscription.
Minnesota could get the pieces for long-term success by dealing Butler

Seven of the players ranked in our top nine play in the stacked Western Conference

Players like Myles Turner and Brandon Ingram have a chance to change the way we think about...
Brad Stevens has no shortage of talent on his hands, but their are tough decisions that come...

The show had a kickstarted movie in 2014, but Hulu is giving it a proper revival

Smith copped to not knowing the situation in the closing seconds of Game 1