Derrick Rose sticking with Team USA after George injury: 'I don't have fear'
Bulls star Derrick Rose says he is unafraid in the face of traumatic injury to teammate Paul George as Team USA gets set for exhibition Saturday.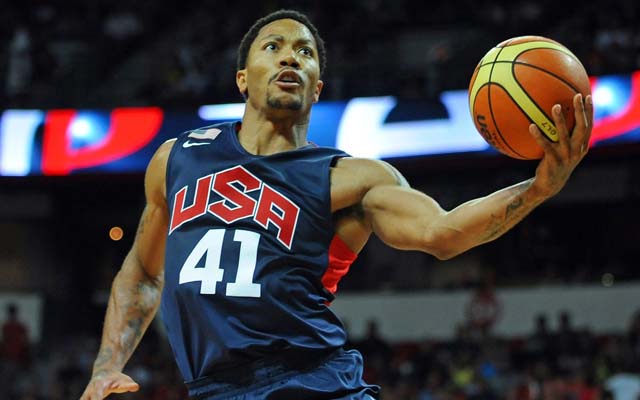 Offseason: Free Agency | Latest from Ken Berger | Rumors
Chicago Bulls star Derrick Rose spoke with reporters in Chicago on Thursday as Team USA practiced ahead of its first exhibition Saturday vs. Brazil, the first game since the scrimmage that resulted in Paul George's devastating leg injury. Rose was asked if George's injury gave him any pause, either about his own leg or about staying with Team USA. Rose, it turns out, is still all in. 
From CBS Chicago: 
"I don't have fear," said Rose, who missed almost the entire 2013-14 season with a right medial meniscus tear. "I have faith. I know that I'm going to be fine. I know I've busted my [butt] the entire two summers, two seasons getting back to where I am now. I'm just trying to keep it moving, stay positive every day, doing everything consistent."

Likewise, the Bulls didn't give thought to Rose stepping away from Team USA, Thibodeau said. The last time Rose played in such an event, in 2010, he followed with an MVP season.

"No, not really," Thibodeau replied when asked if George's injury gave him pause to Rose's status. "And you hate to see anyone get hurt. That's the unfortunate part of the game. Injuries are part of the game and could happen anywhere. From Derrick's standpoint, we think there are a lot of positives to him participating."
via Rose Has No Second Thoughts About Playing For Team USA « CBS Chicago.
That's the best attitude for Rose to have. He can't control what happens, beyond making sure his leg is as strong as possible and taking whatever precautions his trainers advise. And sticking with the team after what happened to George given his own history is a sign of courage. 
Really, the best thing for him is to get used to game speed on the leg. That will help him get past the uneasiness that all players feel after the kind of knee trauma Rose has suffered. And Thibodeau's support will help him as well. There will probably be players who resist playing for Team USA after seeing what happened to George. But it doesn't appear Derrick Rose will be one of them.
Coach Mike Krzyzewski said Thursday that he expects Rose to to start in the exhibition Saturday. 
Thomas took to Twitter to let the Celtics know he doesn't want to ruin Pierce's night

The Hall of Famer's jersey was retired by the Celtics in 1982

It's rare to see a legit punch in an NBA fight, but this was definitely one of them
We've got all the scores, highlights and news from an NBA Tuesday

The former Slam Dunk Contest champion will take his talents to Tri-State

Do NBA players have look-a-likes from famous paintings? We found out on the new Arts & Culture...