Derrick Rose to have knee surgery Monday, could miss rest of season
Bulls star Derrick Rose to have surgery Monday to reportedly reattach meniscus, costing him the remainder of the 2013-2014 season.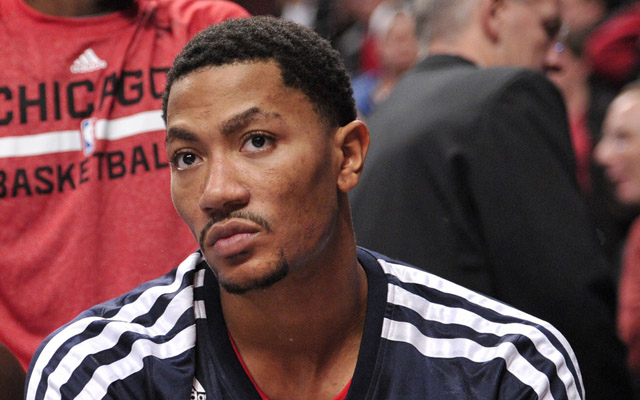 After the disappointment of Derrick Rose's torn meniscus diagnosis hit Saturday, the big question was what kind of surgery would be performed. Removing the meniscus would get him back on the court within a week, trimming it would get him back within a few months, reattaching it would cost him the entire season and a rehab period of up to six months. 
On Sunday, the Chicago Tribune reported that Rose's surgery will be Monday, and Rose and the Bulls are "leaning" towards the reattachment procedure, which would cost him the remainder of the 2013-2014 season. 
Derrick Rose flew back to Chicago on Sunday and will undergo surgery on the torn medial meniscus in his right knee Monday, coach Tom Thibodeau said.

The surgery will be performed by team physician Brian Cole, who also repaired Rose's torn left anterior cruciate ligament.

Thibodeau said how long Rose is out won't be determined until Cole performs the surgery. But two sources close to the process indicated Rose's camp is leaning toward having Rose's meniscus reattached. While this is better for Rose's long-term career, it also means a lengthier rehabilitation process of up to six months.

That would mean Rose would miss the remainder of the regular season.
via Derrick Rose surgery - chicagotribune.com.
Ken Berger of CBSSports.com outlined the choices ahead for Rose and the Bulls, and we broke down where the Bulls go from here without Rose, short-term and long-term.
There may not be any prior indication as to how the surgery will be performed, due to complications or considerations that arise during the process of surgery. So the final estimate on recovery time may not come until Monday afternoon. 
Can Rose return to full effectiveness? That will be the question long-term. The short-term questions are about whether the Bulls retain this core or pursue a recongifuration toward the future. 
Galin Dragiev has his finger on the pulse of the Mavericks and just locked in a play for Thursday's...

The Crimson Tide point guard has been impressive so far and joins the top tier of prospect...

The speculation has been rampant, but seeing James in purple and gold is far from a sure t...
Andrew Bogut and Corey Brewer talked to CBS Sports about Ball's reserved personality

Instead, the Hornets eventually moved to New Orleans

Galin Dragiev has his finger on the pulse of Cavs basketball and just locked in a play for...